When it comes to trends in bedroom decor, there are a few that have been popular so far in 2022. If you're thinking of updating your bedroom this year, take a look at some of these popular trends and see if one might be right for you! From minimalist design to bold colors, there's something for everyone. Keep reading to learn more!
2022 Bedroom Trends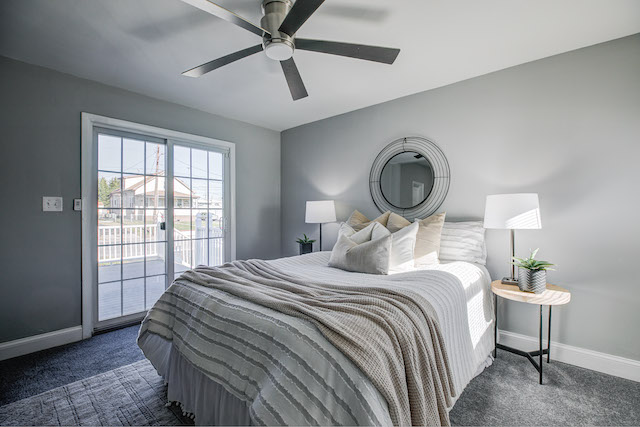 Here are 17 bedroom design trends to try out:
1. Be Confident With Color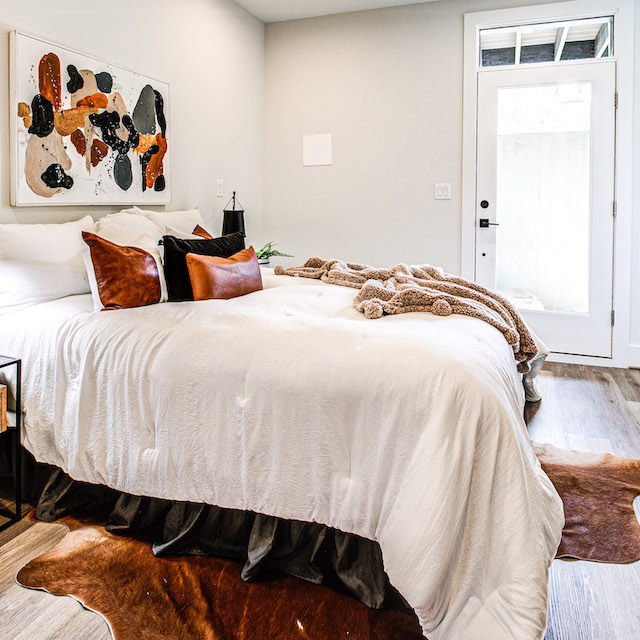 Achieving the perfect bedroom color scheme for a room can be daunting; even a professional interior designer will struggle with this. This is because you must take into account the size and shape of the space, any natural light available, its direction, and who will be using the room.
If you want to use strong wall colors, then choose more subtle tones or neutral shades for your furniture and vice versa. Consider earthy red tones if you want (or need) some energy in the morning. While orange-red hues aren't typically regarded as one of the best bedroom colors, they can give life to a room.
2. Use Art To Express Your Personality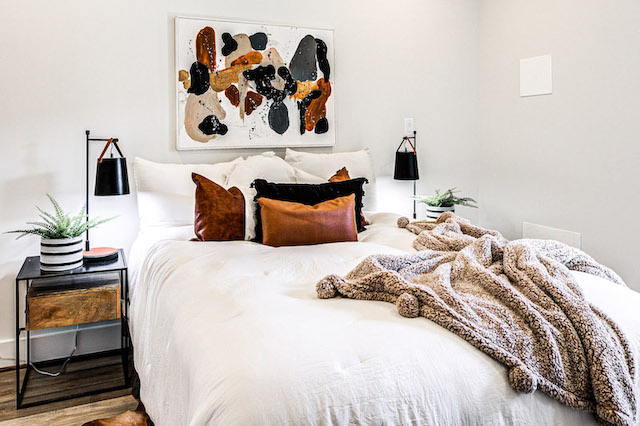 Your bedroom should be a reflection of your personality. So don't be afraid to use art to express yourself! Whether it's a few small pieces or a large statement piece, artwork can really make a space feel like your own.
If you're not sure where to start, try looking for pieces that reflect your hobbies or interests. For example, if you love nature, consider adding a landscape painting or photograph. Or, if you're a music lover, look for concert posters or album covers.
3. Create A Minimalist Space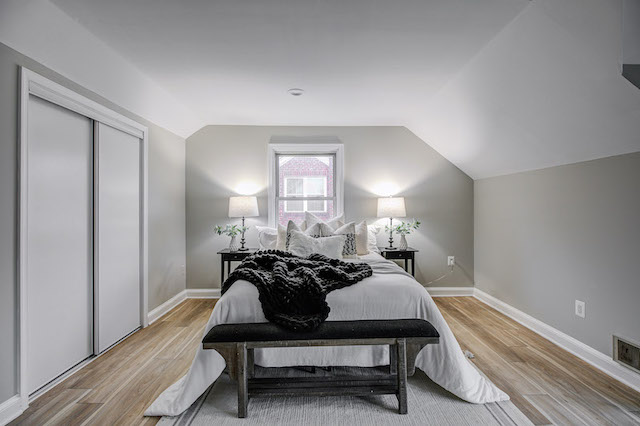 If you're looking to achieve a more peaceful and serene bedroom, then consider adopting a minimalist design. Minimalist bedrooms are all about clean lines and simple furnishings. So ditch the clutter and only keep the essentials in your space. Start by decluttering your room and getting rid of any unnecessary items.
Then, choose furniture that has clean lines and a simple design. And finally, accessorize with only a few key pieces that you absolutely love. This will help create a tranquil space that's perfect for relaxing and winding down at the end of the day.
4. Supersize Your Headboard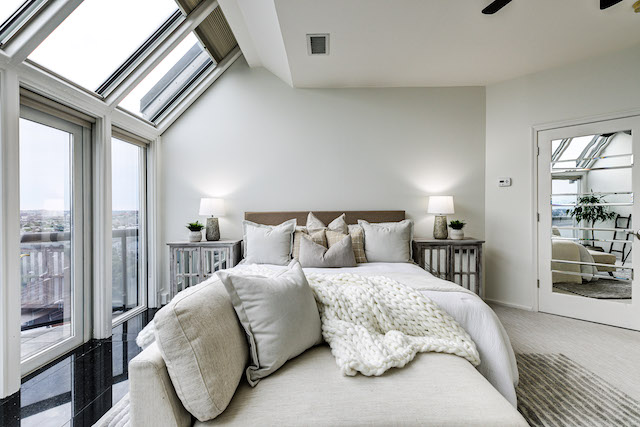 One of the easiest ways to make a statement in your bedroom is to supersize your headboard. This bedroom trend is especially popular in large bedrooms with high ceilings. But even if you don't have a lot of space to work with, you can still make a big impact with a dramatic headboard. There are lots of different ways to supersize your headboard.
You could go for a traditional style that's tall and upholstered, or you could opt for something more unique, like a wooden headboard that extends all the way to the ceiling. No matter what style you choose, this trend is sure to make a statement in your space.
5. Set The Mood With Lighting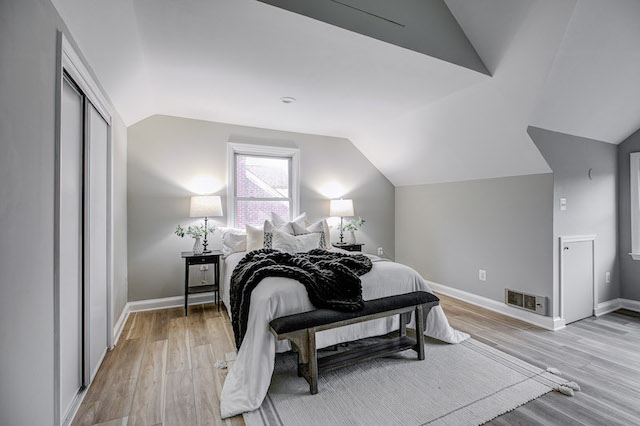 Light can be used to change the setting and atmosphere of your own bedroom space to make it more cozy or even romantic. This can be achieved in a few different ways. One way is to use fairy lights or string lights to create a soft and ambient glow in the room. Another way is to use floor lamps or table lamps to add a warm and inviting feeling.
6. Bring The Outdoors In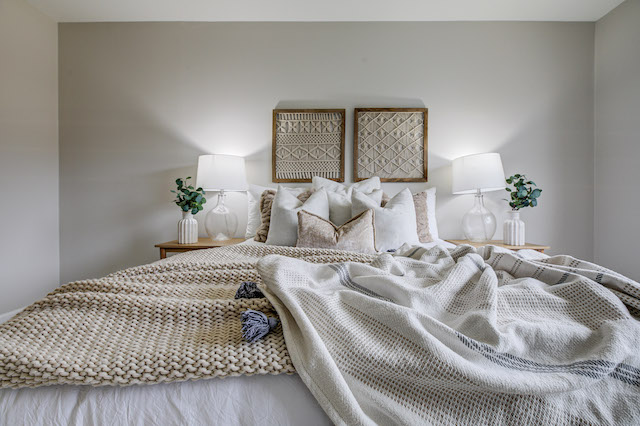 One trend that's becoming increasingly popular is bringing the outdoors inside. This can be done in a number of ways, but some of the most popular include adding indoor plants, using natural materials like wood and stone, and incorporating earthy colors into your space.
Not only does this trend make your bedroom feel more connected to nature, but it can also help improve your mental health and well-being. So if you're looking for a way to make your bedroom feel more relaxing and calming, then consider bringing the outdoors inside.
7. Mix And Match Patterns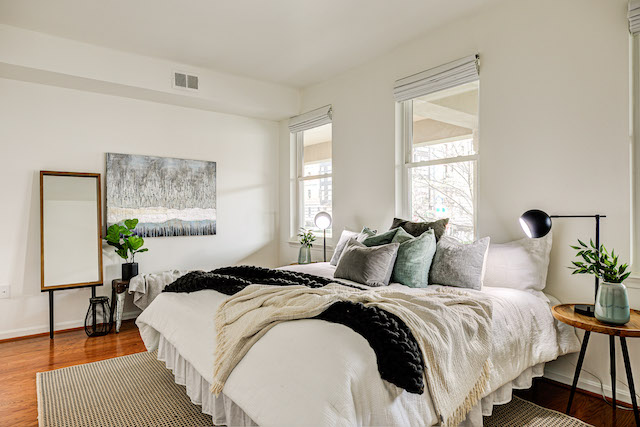 Gone are the days of matchy-matchy everything! These days, it's all about mixing and matching different patterns to create a unique and stylish space. When it comes to bedroom design, this trend is especially popular.
There are lots of different ways to mix and match patterns. One way is to choose a few different patterns that share a common color palette. This will create a cohesive look that's still visually interesting. Another way is to mix and match different textures. For example, you could pair a chunky knit blanket with a delicate lace pillow.
8. Be Smart With Storage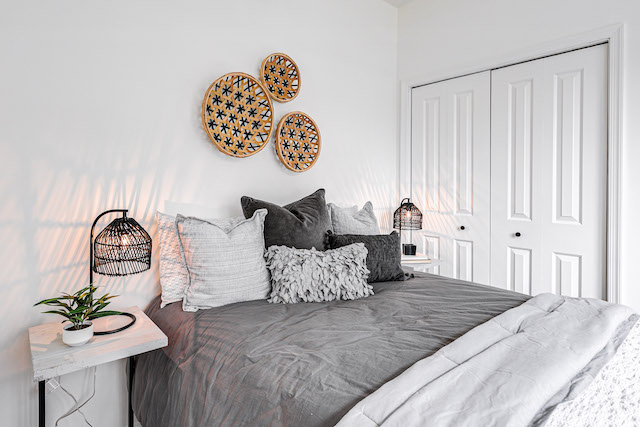 The storage options for the bedroom have evolved considerably, and most interior designers today recommend that you use every possible method to maximize space. Storage will continue to be an important element of the design process as more people seek to clear away clutter for a peaceful and restful sleeping area. Smart, well-planned bespoke joinery may not only improve the appearance of a room but also provide a sense of calm by allowing you to store away items.
9. Invest In Proper Bedding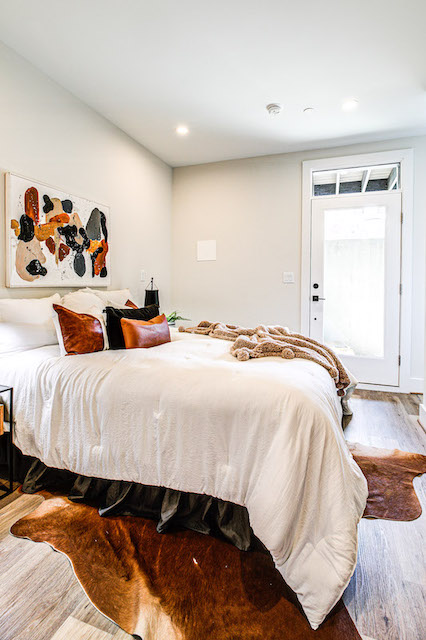 The bed is the centerpiece of any bedroom, so it's important to make sure you have proper bedding. This doesn't just mean buying a new comforter or duvet cover. It also means investing in good-quality sheets and pillows.
Good bedding will not only make your bed more comfortable, but it will also make it look more stylish.
You can find good quality bedding at any major department store or home goods store. Just make sure to read the reviews before you buy to ensure you're getting what you want.
10. Consider Your Nightstand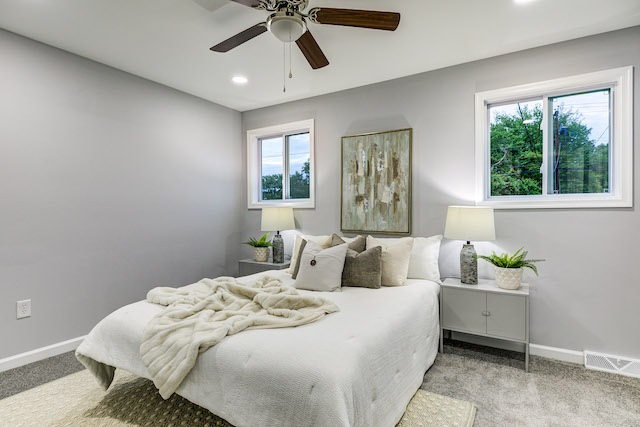 Your nightstand is also one of the most important pieces of furniture in your bedroom. Not only does it hold your alarm clock and lamp, but it's also a great place to store your books, phone, and other nighttime essentials.
When choosing a nightstand, make sure to pick one that's the right size for your space. You don't want it to be too big or too small.
And make sure to choose a style that you love. Your nightstand should be something you're proud to display in your bedroom.
11. Create A Reading Nook
If you love to read, then consider creating a reading nook in your bedroom. This can be as simple as adding a comfortable chair and a small table next to your bed. Or you could go all out and create a dedicated space with built-in shelving and ample lighting.
Either way, having a designated reading nook will make it easier for you to curl up with your favorite book before bed. And it can also add a touch of style to your space.
12. Accessorize Your Dresser
A dresser is an essential piece of furniture in your bedroom. It holds your clothes, and it's also a great place to display photos, jewelry, and other items.
When accessorizing your dresser, make sure to keep the overall aesthetic of your space in mind. You don't want to overcrowd your dresser or make it look cluttered. Instead, choose a few key pieces that complement the rest of your decor.
13. Layer Your Bedroom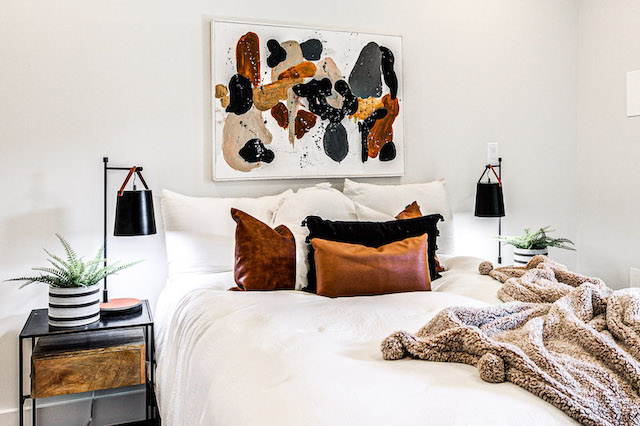 One of the best ways to add style to your bedroom is to layer your decor. This means adding different textures, colors, and patterns to create an interesting and inviting space.
Start with your bedding. Choose a duvet cover and sheets that you love. Then add a throw blanket and some decorative pillows. And don't forget about window treatments. Adding curtains or blinds can really pull the whole look together.
14. Try Quality And Luxurious Pieces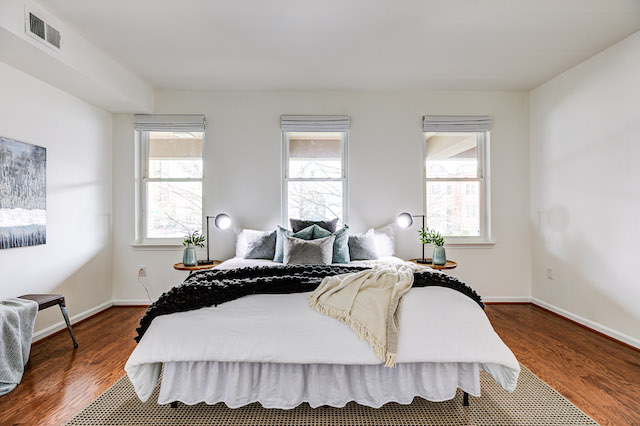 While you don't have to spend a fortune to create a stylish bedroom, you should make sure to invest in quality pieces. This includes your bed, dresser, nightstand, and any other furniture.
It's also important to choose luxurious bedding and window treatments. These items can really make a difference in the overall look and feel of your space. So if you want to create a truly special bedroom, then don't skimp on the details.
15. Create A Focal Point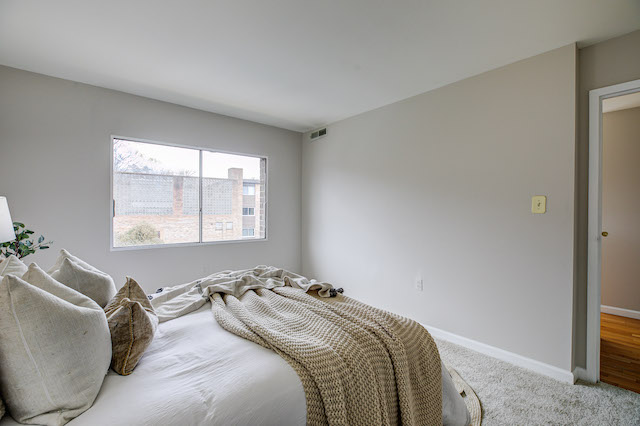 One of the best ways to add style to your bedroom is to create a focal point. This can be done by hanging a piece of art above your bed or adding a statement piece of furniture to the room. You could also create a focal point by painting one wall in a bold color or adding wallpaper with an interesting pattern. Whatever you do, make sure the rest of your decor complements the focal point and doesn't compete with it.
16. Try The Boho Chic Aesthetic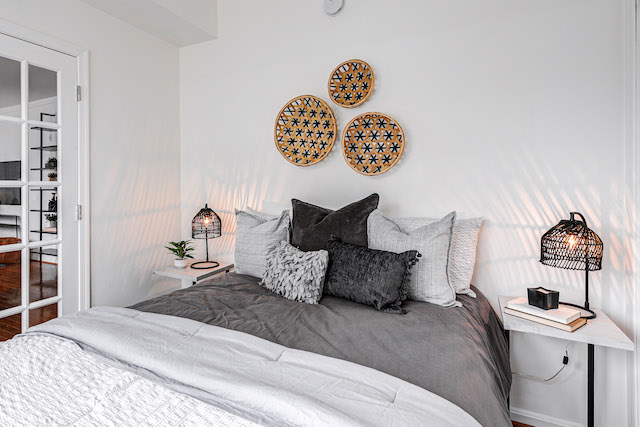 If you're looking for a style that's both stylish and casual, then consider the boho chic aesthetic. This look is all about mixing different odd textures to create an eclectic space.
To get the boho chic look, start by choosing a few key pieces, such as a comfy couch or chair and an area rug. Then add some throw blankets and pillows in different patterns and colors. And don't forget to incorporate natural elements.
17. Use Comfy And Fitted Furniture
Fitted furniture is becoming more popular for bedrooms because it gives the room a neater finish. After all, research suggests that people can spend one-third of their lives in bed, so it's important to make sure your surroundings are comfortable.
Also, make Incorporate tranquil colors into your décor and pick door fronts with less glamor. A calmer bedroom will be more comfortable for a good night's sleep. In fact, current bedroom styles lean towards sleek designs with flush-fronted doors in subdued shades. Some newer models even feature built-in finishes to create a neater appearance in a space meant to encourage deep sleep.
Conclusion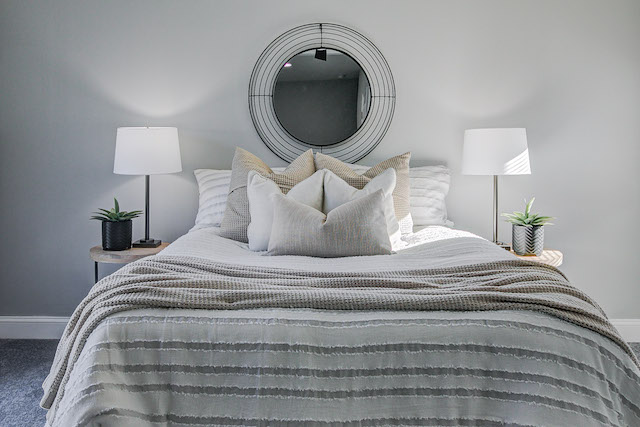 There are many ways to add style to your bedroom. But the most important thing is to create an interior design scheme that you love. After all, this is where you'll be spending a lot of time. So make sure to choose pieces that you really love and that reflect your personal style. With these tips, you can easily create a stylish and inviting bedroom that you'll never want to leave.
Need Help? Contact Us
If you're stuck or need some help developing your bedroom, then don't hesitate to contact us. We would be happy to counsel or give you some ideas that could help improve your space.