With the holidays coming up, now is a great time to start thinking about new decor ideas for your home. If you're looking for something different, boho living room ideas might be just what you're searching for. These rooms can be fun and stylish, and they offer a lot of flexibility in terms of design. So if you're ready to take your home's style to the next level, read on for some inspiration.
Boho Living Room Decor Ideas
Here are some boho decor ideas you should try:
1. Modern Boho Furniture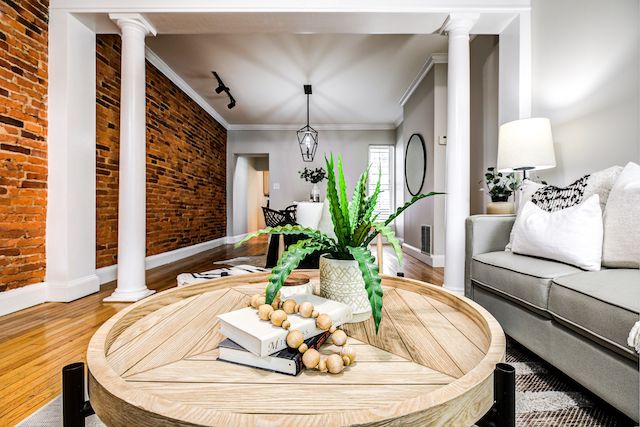 If you want your living room to look modern and boho chic, try using a lot of natural materials like wood and leather. This can be done by adding rustic wooden furniture or leather ottomans to the space. If you really want to go all out, add a bold velvet sofa or chair for that perfect modern boho vibe.
Another option for adding boho style to your living room without going too over the top is modern furnishings. Using colorful throws and pillows on white sofas, for example, creates an intriguing contrast between modern and traditional styles—a look that's ideal for individuals who desire something distinctive yet don't want their homes to appear overly eclectic (or, worse still, cluttered).
With rattan or wicker furniture, you can have the best of both worlds in your home- natural beauty and comfort. Try a rattan couch or accent chair with cushions to bring bohemian flair into your décor without sacrificing coziness.
2. Use A Lot Of Patterns
Boho living room ideas often incorporate a lot of patterns and colors. To get this look, try to mix and match different prints and textures. For example, you can pair a floral print with a geometric one. Or, you can use stripes and paisley together. The key is to not be afraid of mixing and matching different patterns—the more, the better!
If you're not sure where to start, consider using a carpet as your starting point. You can find carpets in all sorts of colors and patterns, so it's easy to find one that will work well with your existing furniture and decor. From there, you can add in throw pillows, blankets, curtains, and other accessories that have similar colors or patterns.
3. Bold Colors
Bold colors are another hallmark of boho style, so don't be afraid to use them in your living room. Try to find a color palette that you love and then build from there. For example, if you're drawn to bright colors, consider using a few different shades of the same color throughout the room. Or, if you prefer more subdued hues, stick to a couple of colors that complement each other well.
Once you have your color palette in mind, start adding different pieces of furniture and decor that reflect those colors. A brightly colored couch can really make a statement in a living room, so don't be afraid to go bold!
4. Plants, Plants, Plants!
One of the best ways to add a bohemian vibe to your living room is with plants. Plants can bring both color and life into a space, so they're a great way to liven up any room. If you don't have a green thumb, don't worry—there are plenty of low-maintenance options out there that are perfect for busy people.
Succulents, for example, are a great option for anyone who wants to add some greenery to their home without having to worry about watering it regularly. Cacti are another good option for those who want something a little bit different. Or, if you really want to make a statement, consider adding a palm tree or two to your living room.
5. Global-Inspired Elements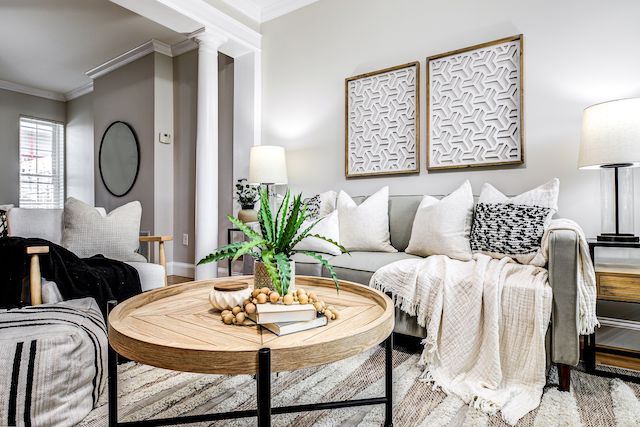 Another great way to add some bohemian flair to your living room is with global-inspired elements. Incorporating items from different cultures can really give your space a unique and interesting look.
You could hang a tapestry on the wall or drape a beautiful scarf over a piece of furniture. Or, you could add some ethnic-inspired throw pillows or rugs to the space. There are endless possibilities when it comes to adding global-inspired elements to your home, so get creative!
6. Add Layers Of Texture
You don't need to be a textile artist or even have a workshop full of hand-dyed fabrics, but you can still layer in texture throughout your living room. Incorporate pillows, blankets, rugs, and other textiles to achieve this look. You could also use different textures on your furniture by staining one side or covering the whole piece.
If you want to hang wall art, look for ones with texture in the design or paint them yourself using a sponge technique (which will give them an eye-catching effect). Finally, if you're not sure how else to add more textures to your room's décor without creating too much clutter, consider utilizing artwork with some sort of pattern or print on it!
7. Get A Bohemian Rug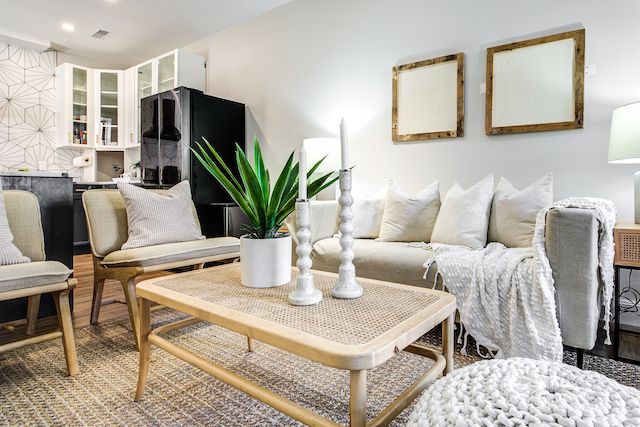 A bohemian rug is the perfect way to add some color and pattern to your living room. Look for rugs made from natural materials like wool or jute, and choose ones with bold patterns and colors.
If you're not sure where to start, here are a few tips: First, decide what size rug you need. You'll want to make sure it's large enough to fit under all your furniture but not so large that it overwhelms the entire room.
Second, think about the colors and patterns you want to use in your space. Do you want something that's more subdued and neutral, or are you looking for a statement piece?
And finally, don't forget to factor in the overall style of your living room when choosing a rug. A bohemian rug might not be the best choice for a more traditional space, for example.
7. Use Stripes And Shapes
Whether it's a striped rug, a geometric print on your couch, or even just a few well-placed shapes around the room, incorporating stripes or shapes into your décor is a great way to add some visual interest. You can use them to create focal points or simply as accents throughout the space.
When using stripes or shapes in your living room, there are a few things to keep in mind. First, less is more—you don't want the space to feel too busy or overwhelming. Second, make sure the colors you use complement each other well. And finally, have fun with it! This is your chance to get creative and experiment with different patterns and designs.
8. Mirrors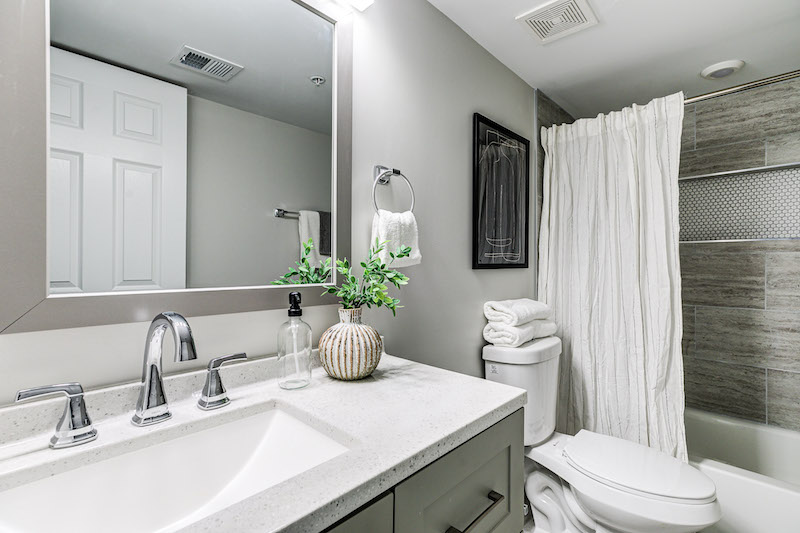 Adding a few mirrors to your living room can really make the space feel larger and more open. Mirrors reflect light, so they're a great way to brighten up any room. Plus, they can also be used as décor items in their own right.
Look for mirrors with interesting shapes or frames. You could also hang a few smaller mirrors grouped together on one wall to create a more focal point. No matter how you choose to use them, mirrors are a great way to add both function and style to any space.
9. Get Creative With Lighting
Lighting is an important element in any room, but it's especially important in a living room. Not only does it provide illumination, but it can also be used to create different moods and atmospheres.
If you want to add some bohemian flair to your living room, consider using string lights or hanging lanterns from the ceiling. You could also use floor lamps or table lamps with interesting bases or shades. And don't forget about candles! Candlelight is always romantic and relaxing, so it's perfect for creating a cozy atmosphere in any space.
10. Make A Gallery Wall
A gallery wall is a chic way to add some character to your bohemian living room. Use frames of varied sizes and shapes, constructed from different materials (wood, metal, etc.) for an eye-catching display that features both large and small prints.
Unsure what kind of art to use for your gallery wall? Here are some suggestions: floral prints, nature photos/shots from around town (these might include locations such as parks or hiking trails), and abstract geometric paintings/drawings with vibrant colors that stand out on the page.
13. Personalize The Space With Your Own Unique Style
At the end of the day, the best way to get authentic boho home decor personalizing the space with your own unique style. Use the tips and ideas above as a starting point, but don't be afraid to experiment and get creative. After all, that's what bohemian style is all about!
Conclusion
Thanks for reading this guide on how to add some bohemian style to your living room. We hope you found the tips and ideas helpful and that you're feeling inspired to start decorating your own boho space. Remember, the best way to achieve a truly bohemian look is by personalizing your living room with your own unique style. So don't be afraid to experiment and have fun with it!
We wish you all the best in your boho-style decor journey, and we hope you enjoy creating your very own boho living room space.
Need Professional Staging Done For Your Home? Contact Us!
If you're looking to sell your home and want to make sure it's styled to perfection, reach out to us. We specialize in helping homes of all shapes and sizes look their best before they hit the market.
We'll work with you to create a custom staging plan that fits both your budget and your needs. Contact us today. We can't wait to help you make your house a home!