That crisp autumn air is finally here, and with it comes all sorts of wonderful decorating opportunities! If you're looking for some inspiration, take a look at these fall home decor ideas. From cozy accents to festive decorations, there's something for everyone on this list. So get creative and start transforming your home into a warm and inviting haven for the cooler months ahead.
Fall Decor Ideas
Below, we've gathered some of our favorite fall home decor ideas to help you spruce up your space for the season:
Branch Arrangements
For an earthy yet elegant tablescape, try arranging branches in a vase. The key to making this look work is to select branches of varying heights—the tallest ones in the middle, shorter ones on the sides—and to use a clear glass vase so that the focus stays on the natural beauty of the branches themselves. To take things up a notch, try adding some small white pumpkins or gourds to the mix.
DIY Woodland Creatures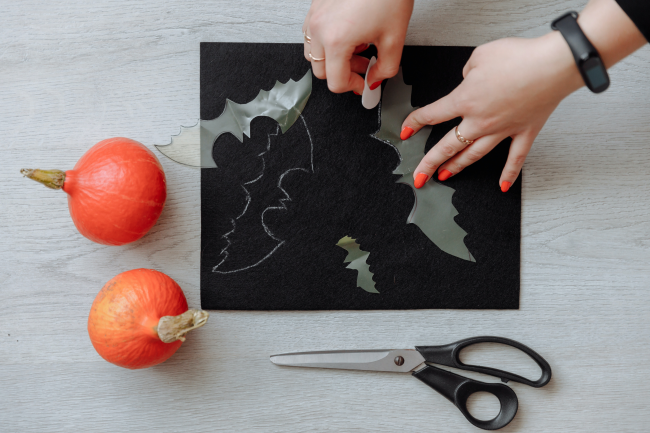 These charming woodland creature sculptures are perfect for adding a touch of whimsy to any fall display. Best of all, they're incredibly easy to make! Simply start with a few small logs, then use a saw to cut them into thin slices. Once you have your slices, it's time to start carving out your creatures. For the foxes, we recommend using a wood-burning tool for the best results. Not feeling particularly crafty? You can also purchase these adorable sculptures pre-made.
Ombré Leaves
With just a few dried grass pieces and some harvest-time branches, you can easily create this stunning display of green-and burgundy leaves. Add on some extra textures like a fluted emerald vase or seasonal fruit nearby to really make the scene pop.
Pumpkin Patches
What Is Halloween Without Pumpkins? Pumpkins are one of the most popular symbols of fall and Halloween, so it's no surprise that they show up in all sorts of home décor. One way to incorporate pumpkins into your decor is to create a charming patch right in your own home. All you need is a few small pumpkins, some soil, and a shallow dish or tray. Arrange the pumpkins in the dish, then fill in around them with soil. Water regularly, and soon you'll have your very own pumpkin patch right at home!
Lamp Chimney And Candle Centerpiece
For Thanksgiving dinner, try using a lamp chimney on the dinner table for a festive centerpiece. A lamp chimney is a glass tube that encases a lamp's wick, and it can usually be found at antique stores or online. Add lamp chimneys of varying heights to create a high-low look that will make it easier for guests to talk across the table.
Wheat Centerpiece
This is just what your harvest table is missing: a rustic, natural wheat centerpiece. Gather some wheat stalks from a local farmer's market or field, then arrange them in a vase or pitcher. Add in some fall foliage for extra color and texture, then top it all off with a few small pumpkins or gourds.
Turnip Viotes
Vibrantly colored vegetables are in season, so take advantage of them! Place some turned candles in baskets on your dining room table for a centerpiece with layers of texture and color that will give off a warm glow.
Paint Dried Gourds With Colorful Hues
Dried gourds are a classic way to give any home a distinctly fall aesthetic, but they're not the most colorful accent piece. Turn your gourds into a statement by painting them shiny, vibrant colors! Once you're done, you can display them in a bowl or basket or even use them as unique vases for small bouquets of fall flowers.
Miniature Hay Bales
No fall display is complete without at least one miniature hay bale! You can shop for little accents at most craft stores, and they're the perfect way to add a touch of country charm to any space. Arrange a few around a centerpiece, use them to fill in empty spaces on shelves or tables, or even place them on your front porch as part of your fall décor.
Draw Attention To Your Fireplace
If you have a fireplace, fall is the perfect time to make it the focal point of your décor. Start by hanging a few fall-themed banners or garlands over the mantel. Then, fill the space with all kinds of seasonal accents like pumpkins, gourds, dried corn, and wheat stalks. You can even add a few scented candles to really give the room a cozy fall feeling.
Pumpkin Topiaries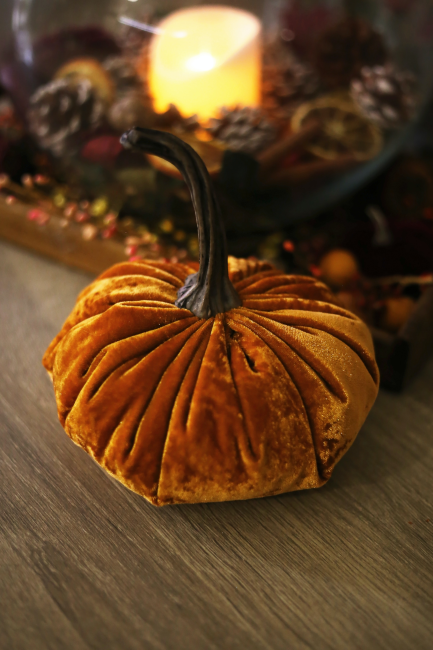 Topiaries are a classic way to dress up any space, and they're especially perfect for fall. All you need is a small pumpkin for each topiary, some wire or twine, and some Fall leaves or greenery. Cut a hole in the top of each pumpkin, then insert the wire or twine. Wind it around the inside of the pumpkin to create a spiral design, then pull it out through the top. Next, start adding leaves or greenery to the wire, starting at the bottom and working your way up. Once you're happy with the way it looks, put the top back on the pumpkin, and you're done!
Rustic Pumpkin Mason Jars
Mason jars are so versatile, and they're perfect for fall décor. To make these rustic pumpkin mason jars, all you need is some orange craft paint, a few small pumpkins, and some twine or ribbon. Start by painting the pumpkins orange, then cut off the stems. Next, use a hot glue gun to attach the pumpkin to the front of the Mason jar. Once the glue is dry, wrap some twine or ribbon around the neck of the jar, and you're done!
Press Leaf Gallery Wall
Getting beautiful pressed leaves to frame only requires a trip outside and some items you probably already have around your house. You can press the leaves by sandwiching them between pages of a book or layers of wax paper, then placing heavy books on top. Once thanksgiving passes and all the leaves have fallen, take your pick of the best ones to frame. Since they're pressed, they'll last indefinitely!
Install A Barn Door
If you want to really embrace the rustic charm of fall, consider installing a barn door in your home! This is a great project for anyone who's handy with tools, and it will add a touch of country charm to any space. You can find barn doors at most home improvement stores, or you can even build your own if you're feeling ambitious.
Corn Husk Garlands
Visitors to your home will marvel at this outdoor display at the front door. Decorative corn is a farmstand staple at this time of year and can be used in all manner of home décor projects: dye them, batch style, in a rainbow of colors or braid the husks to create a seasonal garland that drapes around your doorway. For the latter, space cobs 6 to 8 inches apart on a length of raffia (available at crafts stores), tying it around each piece where the husk meets the kernels.
Fill Your Home With The Scent Of Fall
Nothing makes a space feel more like fall than the scent of cinnamon, pumpkin, and spice! There are a few different ways you can add these seasonal scents to your home. You can buy candles, diffusers, or even potpourri in all kinds of fall fragrances. Or, if you're feeling DIY, you can make your own simmer pot by adding water and a few drops of essential oil to a small saucepan. Then, just let it simmer on the stovetop for a few hours and enjoy the amazing smell!
Wreaths
Wreaths are a classic fall decoration, and there are so many different ways you can make them. You can use real or artificial leaves, pumpkins, gourds, berries, or even flowers. Once you are done creating your wreath, hang them on your front door or anywhere else in your home to really get into the fall spirit!
6 Tips To Help Your Decoration Process Go Without A Hitch
1.Choose A Color Theme
Don't go overboard with too many colors in your decorations. Stick to two or three complementary hues to create a cohesive look.
2. Get Creative With Your Pumpkins
Pumpkins are a must-have for any fall display, but you don't have to stick to the traditional orange ones. Look for pumpkins in different sizes, shapes, and colors to add variety and interest to your display.
3. Incorporate Nature
One of the best things about fall is that it's a time when nature is truly on display. Take advantage of this by incorporating leaves, branches, berries, and other natural elements into your décor.
4. Think Beyond Orange And Yellow
While orange and yellow are definitely associated with fall, there are plenty of other colors that can be used to create a beautiful display. Consider using jewel tones like burgundy and emerald green to add depth and richness to your décor.
5. Create A Focal Point
Every good design has a focal point, and your fall display should be no different. Choose one or two key elements—like a grouping of pumpkins or a cornucopia overflowing with autumn bounty—and build the rest of your décor around it.
6. Have Fun!
Remember, crafting the perfect fall display is supposed to be fun! So don't stress too much about getting everything just right. As long as you're happy with the results, that's all that matters.
Conclusion
There are many ways to decorate your home for fall, and these are just a few of our favorites. With a little creativity, you can transform your space into a cozy, inviting haven that's perfect for entertaining guests or simply enjoying the cooler weather. So get out there and start decorating!
Need A Home Stager? Contact Us!
If you're thinking about selling your home, you may want to consider hiring a home stager. Home staging is the process of preparing a home for sale by making it look its best. A professional home stager can help you transform your space into an inviting and appealing place that potential buyers will love.
If you're interested in learning more about home staging, contact us today. We would be happy to answer any questions you have.