Are you looking for a way to refresh the look of your home? Or are you just wanting to learn more about contemporary interior design for fun? Either way, you've come to the right place! Contemporary interior design is all about creating an atmosphere that is modern, sleek, and inviting. Let's explore some of the ways you can incorporate this style into your home.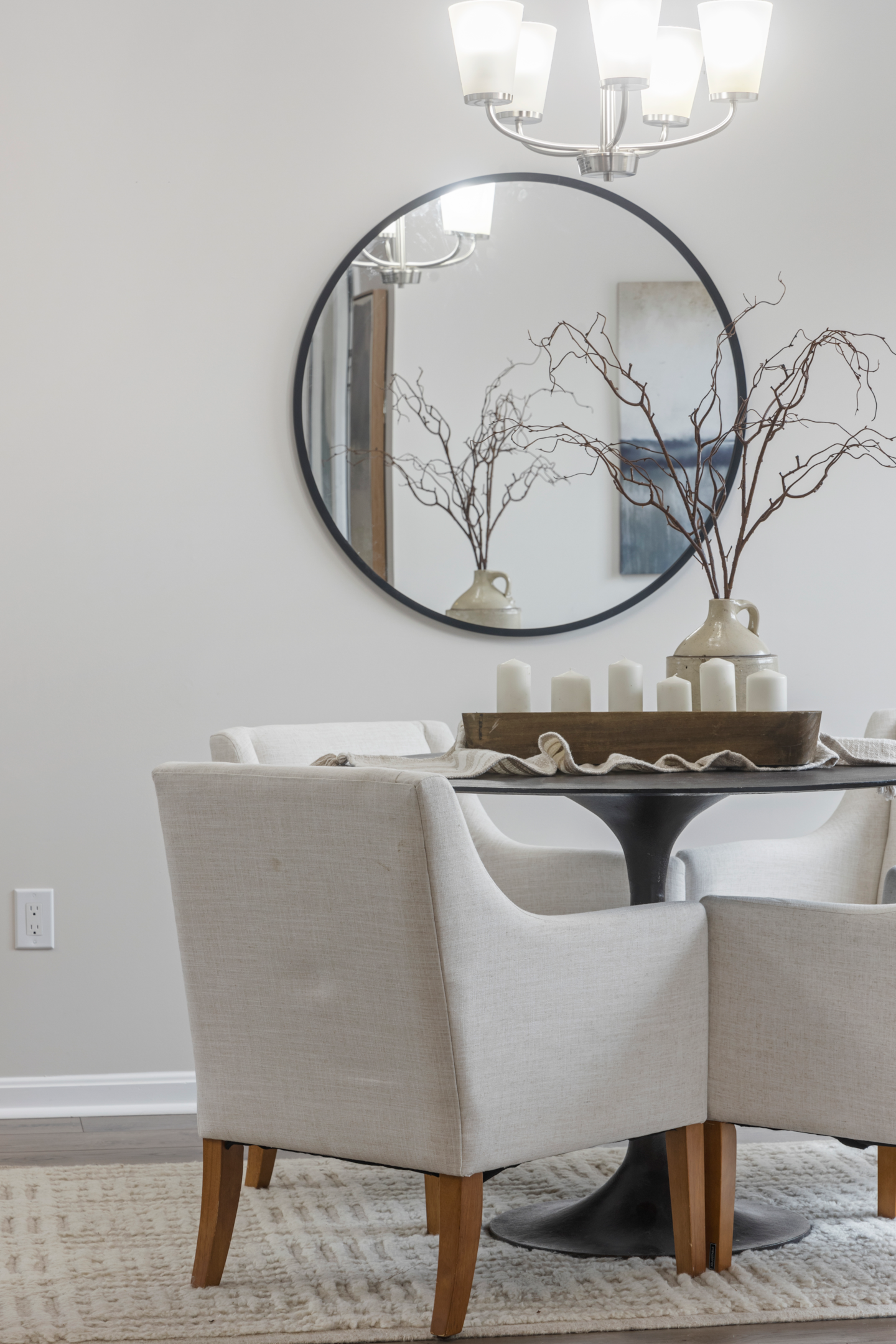 What Is Contemporary Interior Design?
Contemporary interior design is a style of decorating that focuses on modernity, simplicity, and minimalism. The goal is to make your home appear larger and more airy, while still creating inviting spaces where family members and guests alike can relax. There are several key elements that define contemporary interior design.
Color Palette

Contemporary interiors often use monochromatic neutral tones like whites, grays, blacks, or blues in order to create a calming atmosphere. Color combinations like black and white or blue and gray are popular options as well. Despite the neutral color palettes, contemporary interiors still allow for pops of color with artwork or accent pieces like pillows or rugs as a focal point.

Materials

When it comes to materials in contemporary interiors, less is more. Natural materials like wood, stone, glass, metal are all great choices for furniture pieces as they help create a sleek look with minimal effort, giving that contemporary feel. Upholstered furniture pieces should feature neutral fabrics that won't overwhelm the space but will still provide comfort.

Lighting

Lighting is key in any interior design style but especially in contemporary designs as it helps set the mood for each room while still keeping things simple and chic. Recessed lighting or pendant lights are great options for living rooms or dining rooms while sconces next to beds or couches provide the perfect amount of light when needed without taking up too much space visually.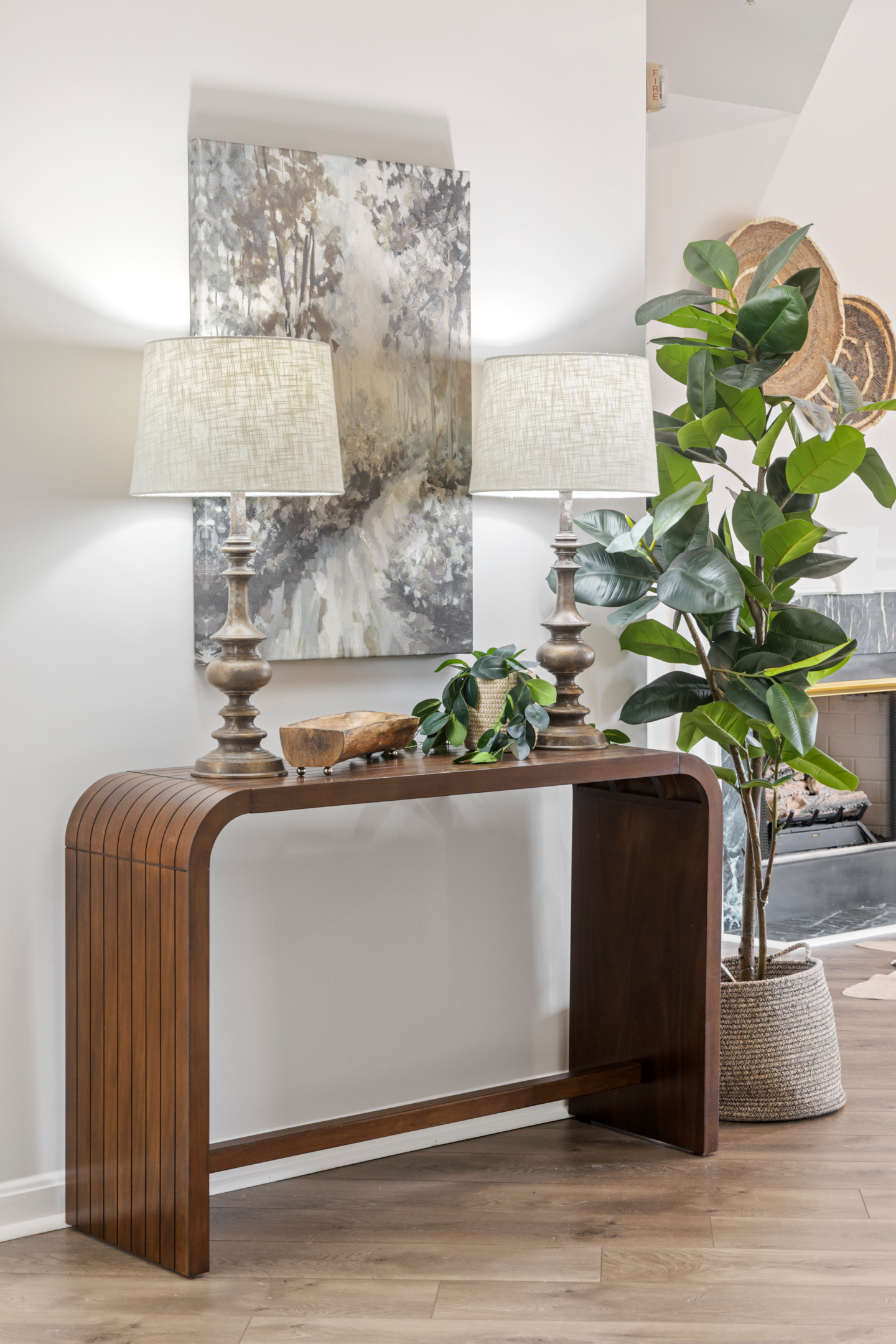 What Makes Modern Interior Design?
The key elements that define modern design are clean lines and minimalism. This means there isn't a lot of clutter or busyness in the room. Instead, there should be open space and neutral colors with bold accents here and there to create visual interest. Furniture pieces should also be minimalistic—think low-profile couches, statement chairs, and simple tables or shelves. Aim for sleek silhouettes with unique touches like velvet upholstery or gold accents. Wall decorations should be kept to a minimum; artworks that have some texture but don't overpower the room are best.
Lighting Is Everything
Lighting plays an essential role in any modern space. Natural light is great when available, so make sure your curtains are sheer enough to let it in without sacrificing privacy. Artificial lighting should also be taken into account; use warm white lightbulbs instead of cool white ones as they're more flattering on skin tones. For added ambiance, consider adding accent lighting like floor lamps or wall sconces around the room. If you want something even more eye-catching, try adding a chandelier or pendant lamp as a central focus piece in the space.
Be Bold with Color & Textures
Contemporary design isn't just about neutral colors—it's also about making bold statements with color and texture! Take advantage of pops of color like yellows, blues, pinks, greens, purples—you name it! Add texture by incorporating different materials such as wood grain, accents on contemporary furniture pieces, or textured wallpapers behind shelves or artwork frames. You can also get creative with rugs; choose one with bright colors and geometric patterns if you want to add some pizzazz to your space without having to do too much work for your modern home! You want to use the architectural elements and structural elements of your home a design style of it's own. By using the natural elements of the architectural details with a bit of bold color use and great wall art, you will have a contemporary home.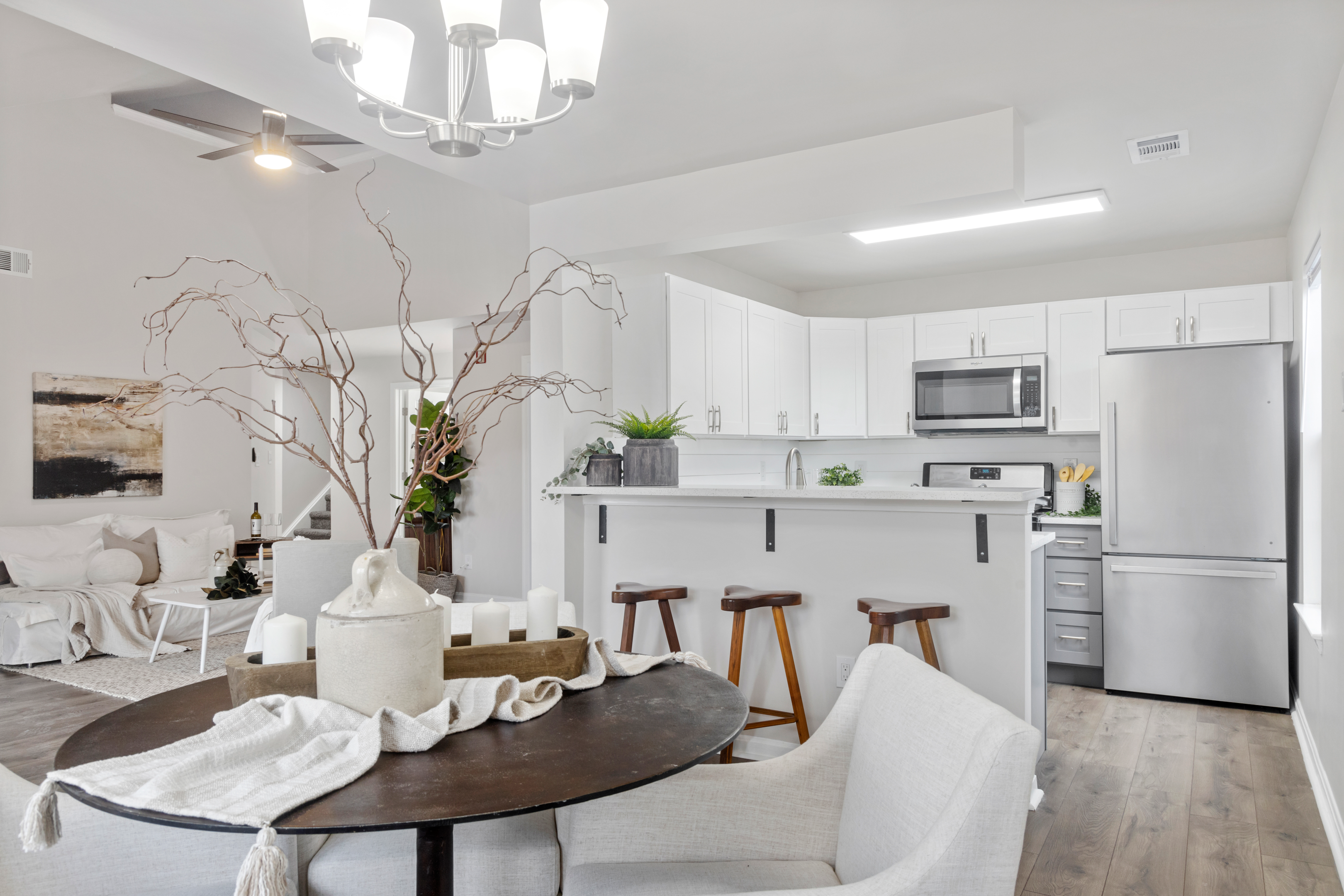 Contemporary Interior Design Ideas: How to Achieve The Perfect Contemporary Style Interior Design In Your Home
Are you looking to bring an updated, modern look to your home? Contemporary interior design is the perfect way to achieve a timeless, stylish look that can last well into the future. Let's explore how you can incorporate contemporary ideas into your home.
Modern Colors and Textures
Contemporary styles are often characterized by neutral colors like whites, grays, and blacks, with occasional pops of bright colors such as blues and greens. Neutral colors create a clean backdrop that allows furniture and decorations to be the focus of attention. Natural textures like wood and stone are also popular choices in contemporary interiors; they add warmth and texture without taking away from the overall design.
Minimalism
The minimalist aesthetic is essential for achieving a contemporary look. Minimalism does not mean stark white walls or empty rooms – it means creating a space that is free from clutter and unnecessary items. To do this, choose furniture pieces that have clear lines and simple shapes. For artwork, pick one or two eye-catching pieces instead of overcrowding the wall with lots of smaller frames. Lastly, cut down on knick-knacks – if something doesn't serve a purpose or bring you joy, get rid of it! This will help make your home feel more spacious and airy while still being stylish and modern.
Lighting Solutions
Lighting can make or break any room in your home – but especially when it comes to contemporary style! The key here is to balance natural light with artificial light fixtures in order to create an inviting atmosphere without overshadowing other elements in the room. Opt for floor lamps with sleek designs; this will provide task lighting while adding texture and color to the room without taking up too much space. Another great option is using recessed lighting which will add ambient light without being too overpowering.
Creating an up-to-date look in your home doesn't have to be difficult! With these interior design tips you can easily transform any room in your house into a modern haven that will last through time. Choose neutral colors alongside minimalist decor pieces for a sleek yet cozy vibe that's sure to impress anyone who visits your home! With these ideas you'll be able to find the perfect combination of features so that you can enjoy your living spaces without compromising on style or comfort – now that's what we call contemporary interior design done right!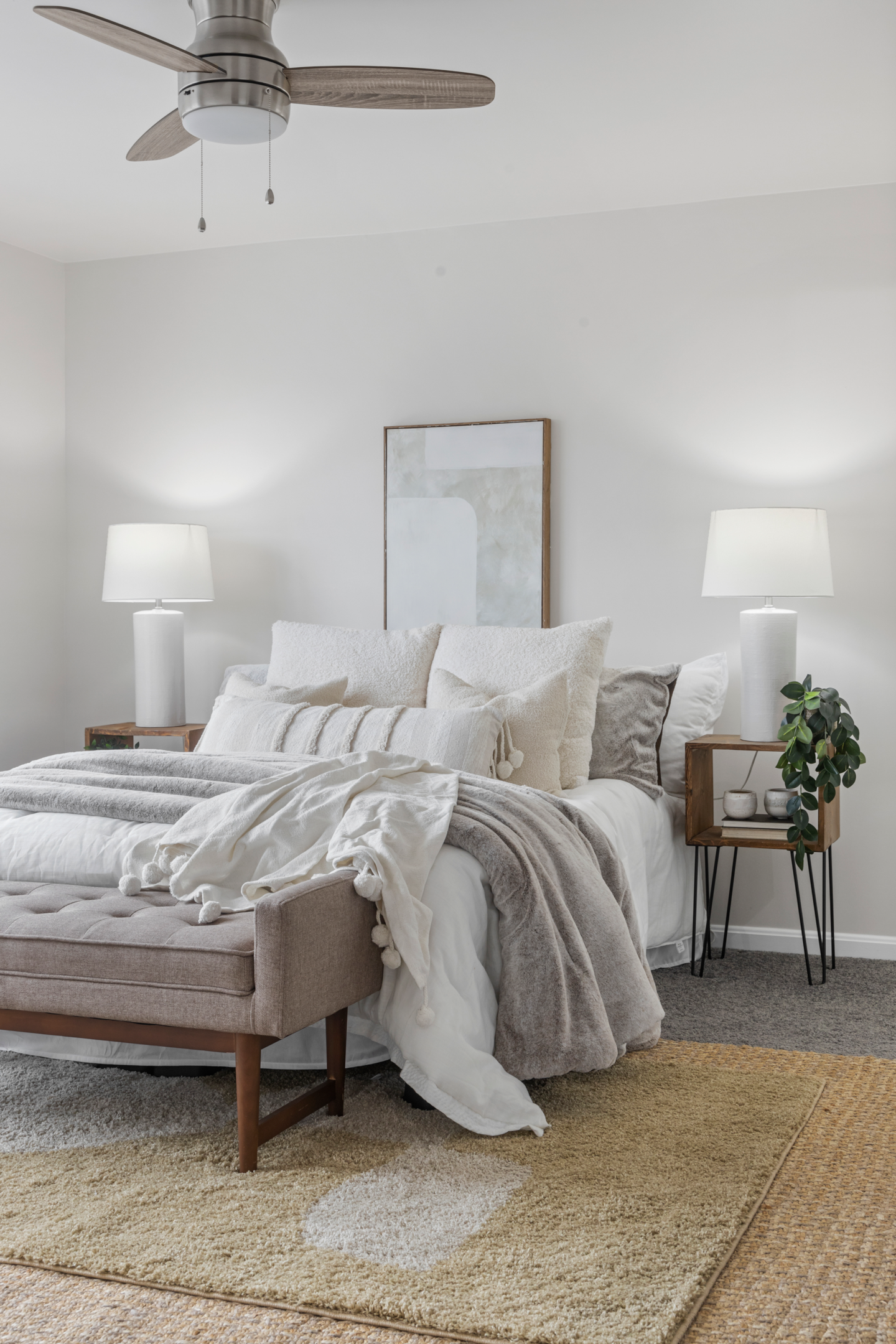 How To Create A Contemporary Living Room
Creating a contemporary living room is relatively easy with the right interior design techniques. Start by focusing on straight lines and geometric shapes to give the room structure. Light-colored walls will open up the space and make it appear larger, while implementing wall mirrors, windows and minimalist furniture such as sofas or armchairs will take your contemporary style to the next level. For added convenience, consider introducing low furniture that allows for additional storage, like a coffee table or bookshelf. With these tips in mind, you'll be able to create an open contemporary living room that's both aesthetically pleasing and highly functional.
How To Create A Contemporary Bedroom
Creating a contemporary bedroom is a great way to obtain a modern and stylish look. Start by incorporating horizontal lines into the room's design. This can be done with horizontal stripes on the wall, sleek horizontal furniture designs, or bold horizontal window treatments. Using open spaces and clean lines can help create an open and uncluttered look that is perfect for contemporary bedrooms. Try using neutral tones and simple decorations in order to make the most of this style, as clutter can often overpower small and modern spaces. With just a few adjustments you will be well on your way to achieving a sophisticated and unique contemporary bedroom that suites your own personal style!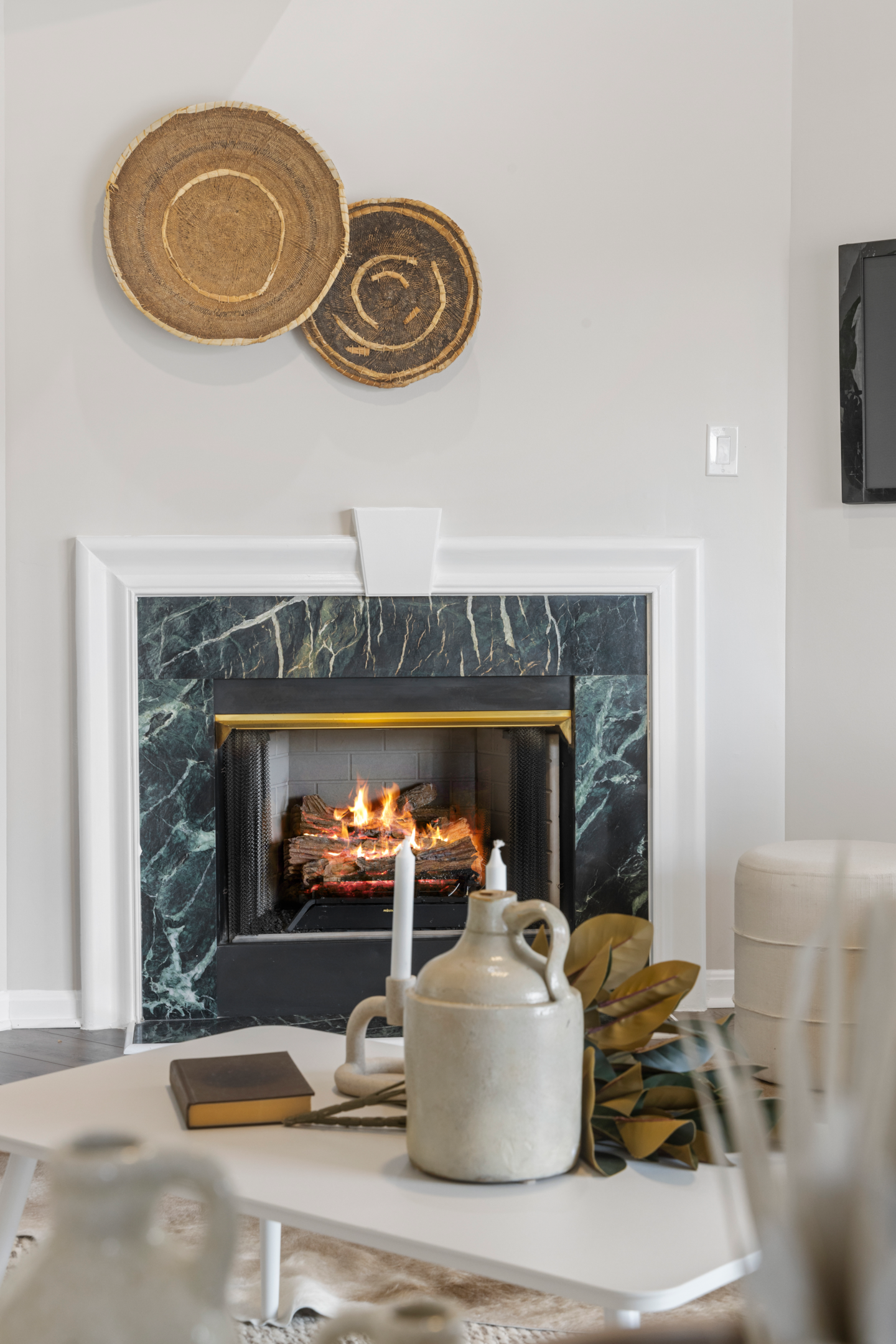 Contemporary Interior Design and How it Can Help You Sell Your Home
Selling a home can be a stressful experience. There are many factors to consider when trying to get the best value for your home, such as location, amenities, and of course, price. One of the most important aspects of selling your home is the interior design. If you're looking to make sure your house stands out from the crowd, contemporary interior design could be just what you need. Let's take a look at how modern interior design can help you sell your home quickly and easily.
Modernize Your Space
When potential buyers enter your home, they should immediately feel that it has been updated and well-maintained. With contemporary interior design, you can create a modern feel in any space. This could include adding bold colors and textures or installing new fixtures with clean lines. The goal is to make sure potential buyers see themselves living in the space by making it as inviting as possible; modernizing the aesthetic helps achieve this goal.
Make It Look Larger Than It Is
Contemporary interior design is perfect for small spaces because it allows you to maximize the available square footage without overcrowding it with furniture and decorations, especially if you don't have open floor plans. By using neutral colors on walls and floors, adding large mirrors or windows to bring in natural light, and using shelves for storage rather than bulky cabinets or chests of drawers, you can open up the space visually and give buyers an idea of how much room they have to work with when they move in.
Update Technology & Appliances
Another area where contemporary interior design comes in handy is updating technology and appliances throughout the house. Today's buyers expect their homes to have cutting-edge technology such as touchless faucets or smart thermostats installed; having them already set up will make your house stand out from other homes on the market that don't have such features. As far as appliances go, swapping out older models with energy-efficient ones will also help attract buyers who are looking for houses that are easy on their wallets (and the environment).
Contemporary interior design is a great way to increase your chances of selling your home quickly—and at an asking price that meets or exceeds expectations! From modernizing spaces with bright colors and textures to maximizing space through cleverly placed furniture pieces, there are plenty of ways that contemporary interior design can help your house stand out from others on the market—and ultimately get sold faster! If you want to ensure that your house makes a lasting impression among potential buyers, consider giving it an update with some contemporary style today!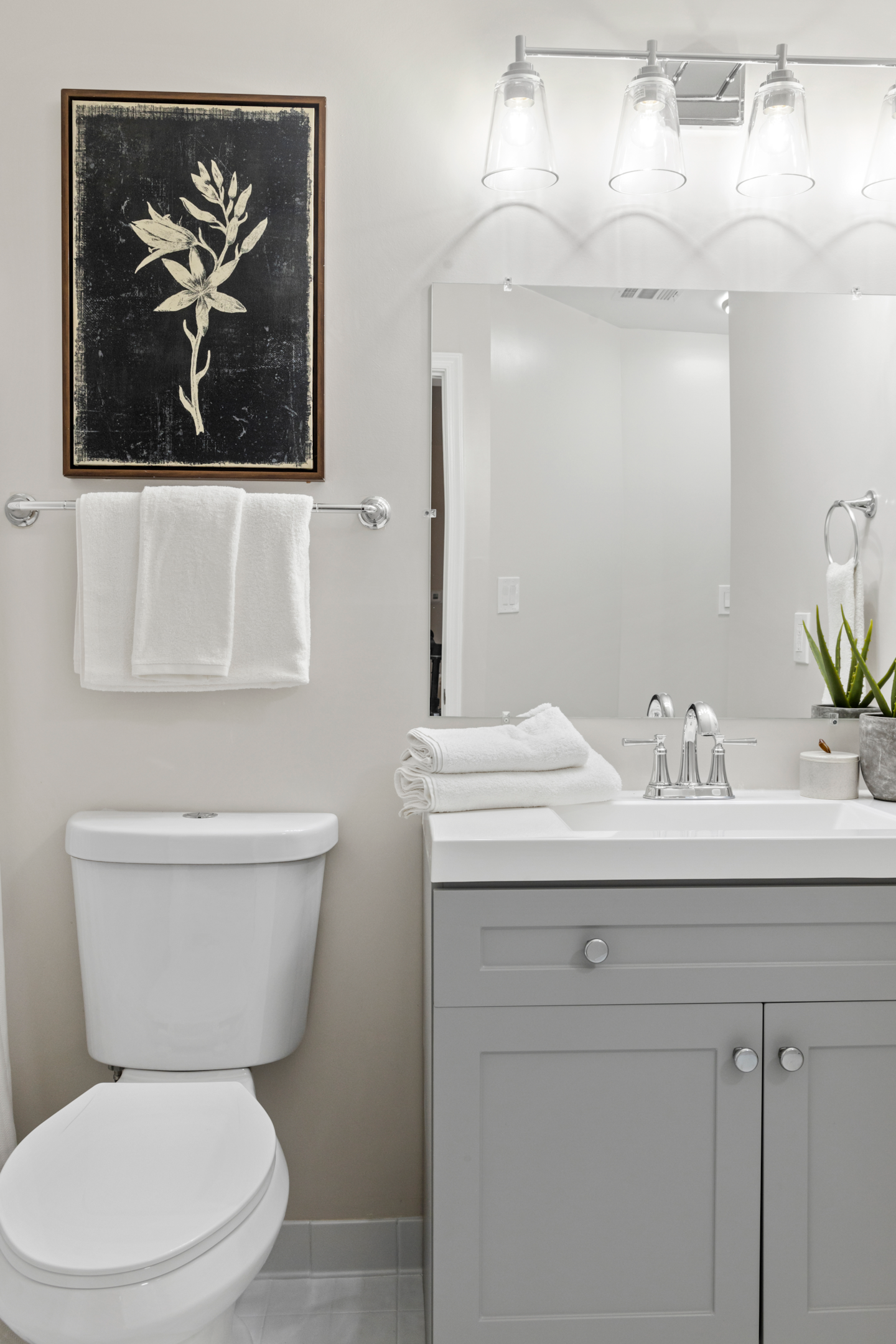 Realestaged: The Interior Designers For You Home Staging Needs
Contemporary interior design styles are a concept that many homeowners are turning to when looking to present their home in the best possible light. It is a great way to give potential buyers a sense of what they may expect with the property; all the while creating a modern and stylish atmosphere. Upon listing, convenience and comfort tend to be highly valued features that potential buyers will look for in determining which house they want invest their money into. Investing into contemporary design styles is one of the easiest and most efficient ways to ensure that your house stands out from the competition and creates an impression that can't be easily forgotten.
Realestaged has a wide variety of services to choose from that can give your home the extra edge it needs to stand out in today's market. Their contemporary designers have an eye for detail and can make even the most mundane rooms look luxurious and inviting. If you're considering selling your home, contact Realestaged for all your home staging needs!
Contemporary Design Style: Giving You The Perfect Home!
Contemporary interior design is all about creating an inviting atmosphere through clean lines and minimalism combined with bold pops of color and unique textures. It's not only stylish but also incredibly versatile; no matter what type of home you have, there's always ways for you to incorporate modern elements into your decor! With these tips in mind, we hope you feel inspired to create an unforgettable contemporary space that reflects your personality perfectly!