Selling a home can be tough. It's important to make your home look as appealing as possible to potential buyers, and that means staging it in the best way possible. If you're looking for some ideas on how to style your bedroom for staging, you're in luck! These modern bedroom ideas will help give your home an edge over the competition.
Contemporary Style Vs. Modern; What's The Difference?
When it comes to interior design, the terms "contemporary" and "modern" are often used interchangeably. But what exactly is the difference between these two? Contemporary design is all about current trends. This means that it is constantly evolving and changing to keep up with the times.
Modern design, on the other hand, refers to a specific period in time. The Modernist movement began in the late 19th century and ended in the mid-20th century. So, when it comes to choosing a style for your bedroom, it really depends on what you are looking for.
If you want something that is constantly changing and evolving, then contemporary is the way to go. But if you are looking for something from a distinct time period, then modern is the way to go.
Modern Bedroom Designs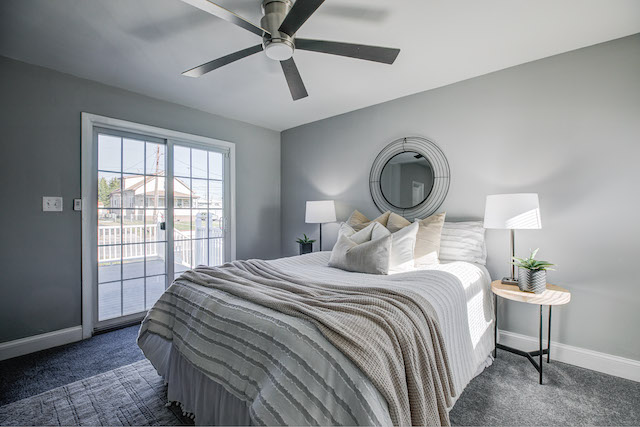 Here are some of the best modern bedroom layout designs for 2022:
Natural Light
Most people want as much natural light in their bedrooms as possible. After all, who doesn't love waking up to the sun shining in through the windows?
If you're lucky enough to have large windows, take advantage of them! If not, there are a few things you can do to create the illusion of more light.
One way to do this is by hanging curtains that are sheer or made from a light fabric. This will allow more light to filter into the room. Another way is to use mirrors. Mirrors reflect light and make the space appear larger, which can also help brighten things up.
Bedside Tables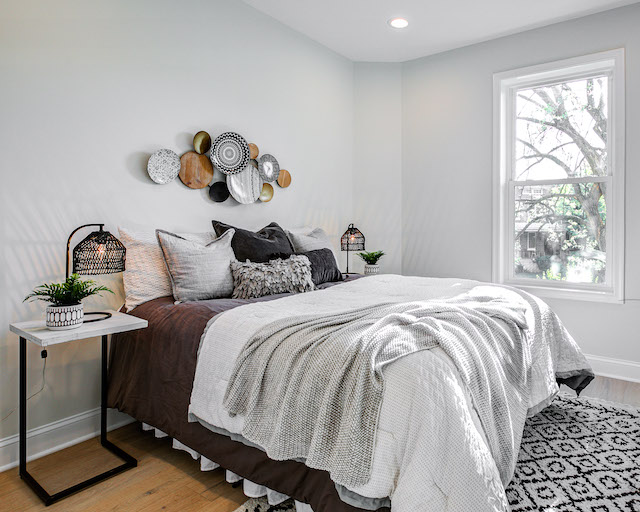 Beside tables are a modern bedroom furniture design trend we've seen a lot lately.
A bedside table important in the bedroom. Not only does it hold your alarm clock, but it's also where you place your nightstand lamp. And let's not forget the all-important task of holding your favorite books for when you want to wind down before bed.
When choosing a bedside table, think about both function and style. If you have a small space, opt for something that doesn't take up too much room.
A narrow nightstand or even a wall-mounted shelf can work well in this situation. If you have a little more space to work with, go for something with more storage, like a dresser or chest of drawers.
Sustainable Bedroom Furniture
As we become more aware of the impact our choices have on the environment; sustainable furniture is becoming more and more popular. If you're looking to green up your bedroom, there are a few things you can do.
First, try to buy local. This supports small businesses and cuts down on transportation emissions. Second, look for furniture made from sustainable materials like bamboo or natural wood. And finally, make sure to choose pieces that will stand the test of time so you don't have to replace them anytime soon.
Serene Modern Style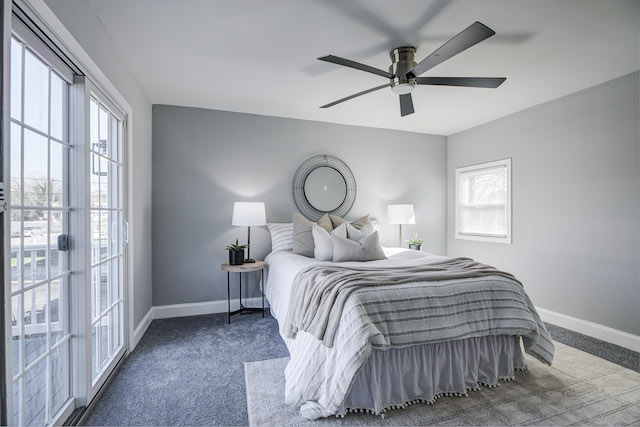 One popular bedroom style is serene modern. This look is all about creating a calming and relaxing space with modern aesthetics. To achieve this, you'll want to stick to a neutral color palette and use simple, clean lines.
Start by painting the walls a light and airy color, like white or pale blue. Then, choose furniture with straight lines and clean silhouettes. And last but not least, add in some soft furnishings for a little bit of texture and interest. Throw blankets, plush pillows, and an area rug will do the trick.
Bedroom Paint Colors
When it comes to paint colors for the bedroom, there are a few things you'll want to keep in mind. First, consider the mood you want to create. If you're looking for a space that's calm and relaxing, stick to cool colors like blue or green.
If you want something a little more energizing, go for warmer shades like red or orange. And if you can't decide, don't worry! You can always use a neutral color like white or gray and add in pops of color with your bedding and accessories.
Embrace Art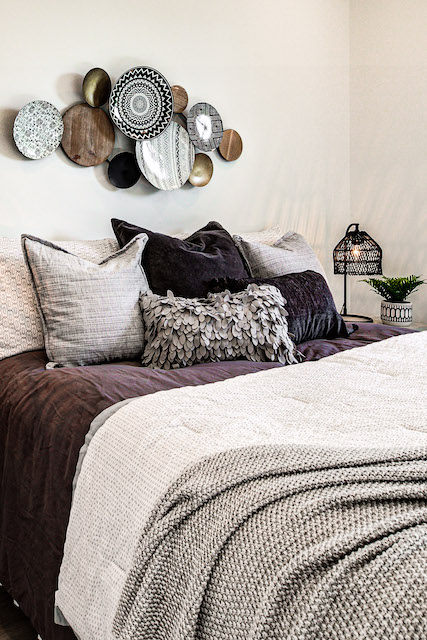 A bedroom is the most private and intimate area in the house, allowing you to unwind and be yourself. Artful design is, therefore, particularly important here. A classic starting point for any artsy bedroom design is a favorite painting. Make this your cue – vary the colors used, choose two or three, then go from there.
You can also choose a single color as a starting point – from an attractive artwork, photograph, or piece of clothing – to create the thread that runs throughout the space. With complementary or tonal colors, build your modern design scheme around this.
Minimalist Bedrooms
If you're looking for a modern space that is sleek and sophisticated, we think minimalism is the right option for you. This look is all about keeping things simple and clean. That means sticking to a neutral color palette and using furniture with clean lines.
When decorating a minimalist bedroom, less is definitely more. So start by painting the walls white or another light neutral color. Then, choose furniture that has straight lines and few details. And last but not least, accessorize sparingly to avoid clutter. A few simple decorations, like candles or vases, are all you need.
Mid-century Modern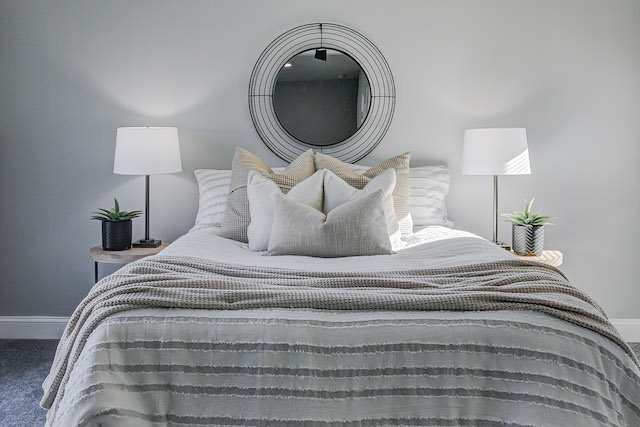 Modern design's most popular variant is the mid-century modern or MCM style. Mid-century modern was developed in the United States during the 1920s and 1930s and reached its peak popularity throughout the 1950s and 1960s, almost defining the decorating trend of that era.
Midcentury modern is making a comeback on the modern bedroom design scene, with no sign of going out of style any time soon.
Indoor Lighting
Lighting is an integral part of any room, but it's especially important in the bedroom. After all, this is the space where you'll be getting ready for your day and winding down at night.
There are a few things to keep in mind when choosing lighting for your bedroom. First, you'll want to choose a light source that is soft and calming. Second, make sure to position the light in a way that is flattering to your bedroom furniture and decor. And last but not least, don't forget about task lighting! This is especially important if you have a vanity or dressing area in your bedroom.
Complementary Color Combinations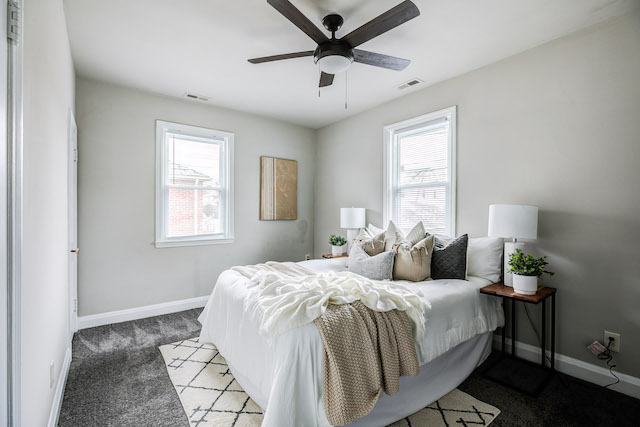 It is often tempting to look ahead to the future in a modern bedroom color scheme, but it's also sometimes worth reflecting on the past during periods of uncertainty.
There is something reassuring about being surrounded by colors that have been tried and tested over time. Complementary color combinations are a great way to achieve this feeling in your bedroom.
They consist of two colors that sit opposite each other on the color wheel, such as blue and orange, red and green, or purple and yellow. When used together, these colors create a dynamic yet harmonious look.
And because they are opposite each other on the color wheel, they also help to balance out each other's energy, making for a calm, relaxing, and elegant space.
Get Creative With Your Wallpaper
Wallpaper is a great way to add a modern vibe to your bedroom. And there are so many fun and creative ways to use it! You can go for a bold print or pattern or opt for something more subtle.
You can also use wallpaper to create an accent wall. This is a great way to add some visual interest without going overboard. To do this, simply choose a wall that you want to feature and then cover it with wallpaper. The other walls in the room can be painted or left bare.
Another option is to use wallpaper as an all-over print. This will give your bedroom a truly unique look. Just make sure that the colors you choose complement each other so that the space doesn't feel too busy.
Add Some Texture To The Room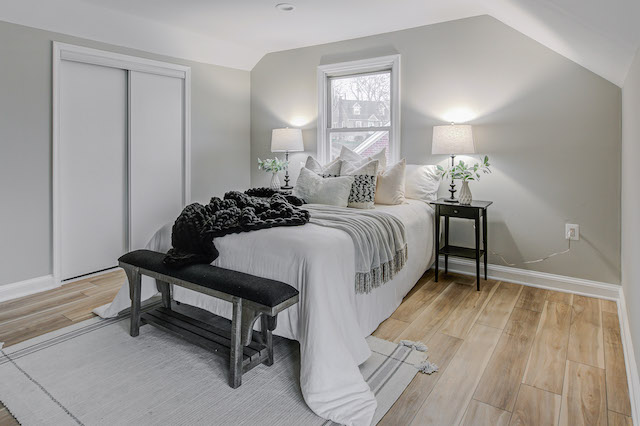 Putting texture into your bedroom is a great way to add interest and visual appeal. And there are so many ways to do it! You can use textured wallpaper or opt for textured paint. You can also add texture with fabrics, like using soft brown bed linens or adding a sheepskin rug to the floor.
And don't forget about the textures in your accessories and furniture. A leather headboard, for example, will add a touch of luxury to your space. And a basket-woven bedside table will give your room an earthy feel.
Storage Spaces
Another important element of a bedroom is storage. After all, where are you supposed to put all your clothes and shoes? And what about your bedding and towels?
There are so many different storage solutions for bedrooms. You can opt for built-in wardrobes or dressers. Or you can go for a more creative solution, like using an old chest of drawers or an antique armoire.
You can also use storage baskets and boxes to organize your things. And don't forget about under-bed storage! This is a great way to make use of all that extra space.
Final Thoughts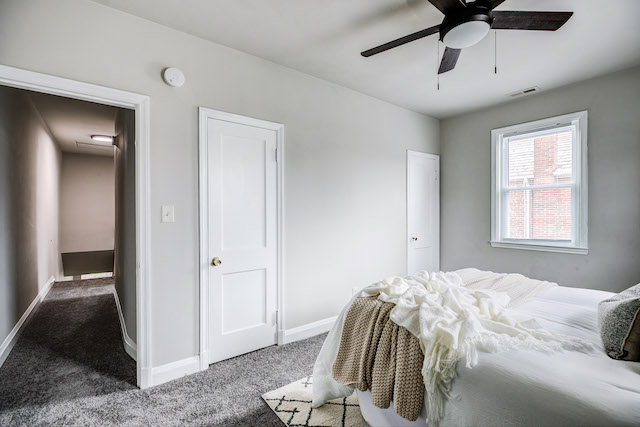 There you have it! These are just a few of the many modern bedroom ideas for 2022. So get creative and design your bedroom layout today!
Need Professional Stagers? Contact Us!
If you're looking for professional home stagers to help you with your project, we'd love to hear from you. Contact us today, and we'll be in touch soon. We can't wait to help you create your perfect space!