Home staging has become an increasingly popular trend in the real estate market, especially in the city of Alexandria, VA. For those unfamiliar with the concept, home staging involves carefully curating the appearance of a home to make it more attractive to potential home buyers.
The goal of home staging is to create a warm and inviting atmosphere that will appeal to the widest possible range of buyers and help the home sell more quickly and for a higher price. In this article, we will delve into the world of home staging in Alexandria, VA, and discuss why we are the best home staging business in Alexandria, VA.
What Is Home Staging?
As stated earlier, home staging is the process of preparing a home for sale by making it look more attractive to potential buyers. Staging helps create an environment that will capture buyers' attention and stand out from other houses on the market. Staging is also used to help sell rental properties faster and homes about to be listed for sale.
Professional stagers may do anything from decluttering and depersonalizing a home to rearranging furniture and adding decorative touches. Home staging companies can also be hired to help stage rental properties or vacant homes about to be listed on the market. House staging aims to create an inviting environment for every potential home buyer.
Who Is A Home Stager?
A home stager is a professional specializing in making a house look its best for potential buyers. Professional stagers provide services like decluttering, depersonalizing, rearranging furniture, and adding decorative touches to make homes more appealing. Home stagers often have knowledge about interior design and how to maximize the potential of a home. They know the intricacies of the real estate industry, marketing a home, and how to make a property stand out from the competition.
What Is A Home Staging Process?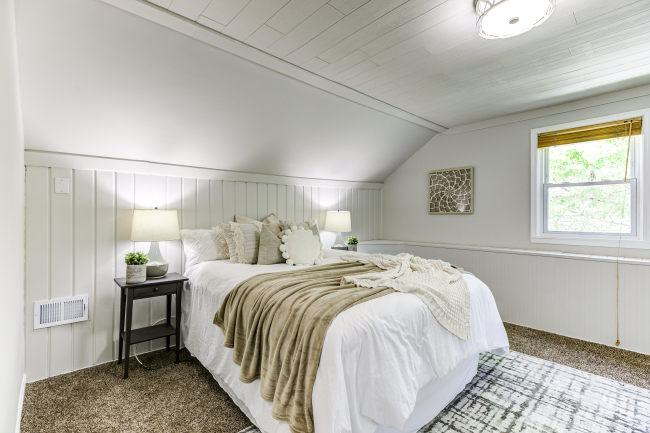 Home staging often involves several steps, including:
Consulting
This is the preliminary stage, where home stagers advise homeowners on how to make the house look attractive and offer more value. Here, the house stager considers the physical factors, current market trends, and desired needs of potential buyers.
Assessment Of Home Staging Needs
The next step is to assess the home staging needs and evaluate current furniture, decor, and other items that may need to be removed or replaced. Stagers can help identify what should be kept or disposed of to create a more attractive environment.
Creating A Staging Plan
Once the assessment is complete, a staging plan will be created. House stagers will suggest how to rearrange furniture and decor to create an attractive atmosphere. The home stager collaborates with the interior designer by suggesting wall paints, replacing carpets, and adding decorative touches to make the home more inviting for potential buyers.
Execution Of Staging Plan
House stagers often work with contractors and other professionals to ensure the staging process goes smoothly. This stage involves furnishing the home with furniture and décor and ensuring that any repairs or renovations have been completed. Stagers also help install fixtures and appliances to make the house look complete. The house stagers apply the timeline and budget for each project, ensuring that deadlines are met, and all costs are accounted for.
Finishing Touches
This is the last stage, where house stagers add the final touches to ensure the entire house looks attractive and inviting. Stagers will review light fixtures, curtains, and other decorative elements to ensure they follow industry standards. House stagers may even provide photography services to capture images of the home before it is listed.
Duties Of A Home Staging Company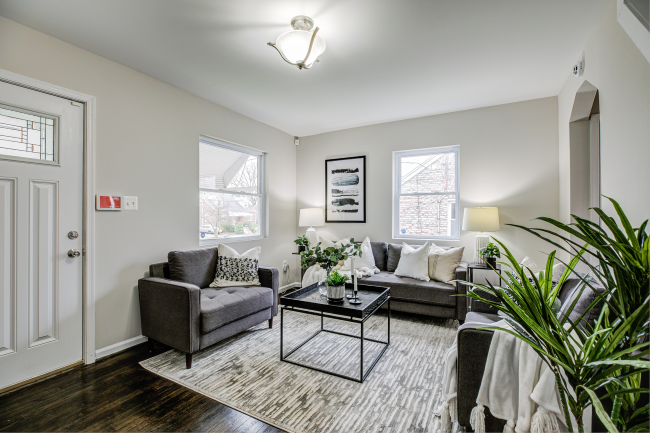 The duties of a home staging service may vary, depending on the homeowner's needs. Generally, the services provided by a home stager include:
Offering Advice To Home Sellers
With their sufficient knowledge of the real estate industry, home stagers can advise sellers on how to make their homes more attractive and appealing to potential buyers. Home stagers can also help market a property to attract more attention from buyers.
Designing Home Staging Plans
Home stagers can develop plans to make a home look its best by considering the home's style and the needs of potential buyers. Home stagers will strategize how to rearrange furniture to create an inviting atmosphere that makes buyers feel at home.
Depersonalizing a Home
Home stagers can help declutter a home by removing unnecessary items, such as old furniture and clutter. Stagers also help depersonalize the house by removing family photos and personal mementos.
Interior Decorating
Home stagers may rearrange furniture, pick out paint colors, and hang artwork to create a more attractive environment. Stagers may also add decorative touches such as rugs and throw pillows to make the space more inviting.
Creating A Budget Plan
Home Stagers help create a budget plan for homeowners to follow. Stagers can help identify potential costs associated with the staging process and work within the homeowner's budget constraints.
Ensuring Timely Projects
New construction projects often take longer, depending on the project's scope. Stagers help ensure that the project is completed promptly, meeting deadlines and helping reduce stress for homeowners.
These are some of the duties that a professional home staging service may offer.
Benefits Of Using Home Staging Services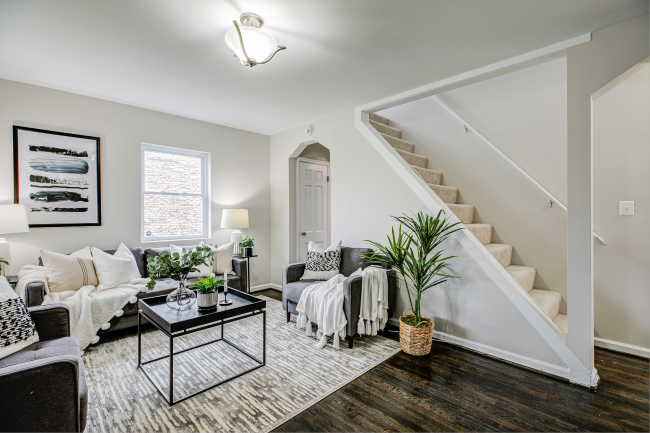 Using a home staging service can provide numerous benefits for homeowners looking to sell their properties. House staging offers the following benefits:
Reduce Staging Time
Home Stagers can reduce the time it takes to stage a home from start to finish. Stagers help coordinate with contractors, designers, and other professionals to ensure that projects are completed on time. Staging a house quickly will also increase its appeal and market value.
Increase Home Value
Using a house stager will help increase the value of a home. House stagers can provide advice on how to make improvements that potential buyers may be looking for. Staging a house with stylish furniture and decor can also create an inviting atmosphere, making it more appealing to buyers.
Better Architectural Features
House Stagers can also help improve the overall architectural features of a home. Stagers provide advice on how to rearrange furniture and decor to showcase architectural elements such as high ceilings and grand windows. They may suggest improvements such as adding wall moldings or refreshing paint colors to make the home look more attractive.
Professional Advice And Ideas
House Stagers also provide professional advice and ideas to help homeowners create the perfect atmosphere for their homes. Home stagers offer suggestions on how to rearrange furniture and decor and what materials to use to create a more inviting space. House stagers are experienced professionals who can help bring out a home's best features.
Less Stress
You need not worry about trying to stage your home yourself. House stagers can help reduce the stress of preparing a home for sale by taking care of all the details for you. Home staging companies have experienced and knowledgeable professionals who can guide and answer any questions.
Choosing A Home Staging Service in Alexandria, VA
When choosing a house staging service, you should consider the following factors:
Experience and Portfolio
Hiring a home stager with experience and a good portfolio is important. Look for Stagers that have worked with similar projects in the past, and ensure they are familiar with the local market. Ask questions about their experience and check references before selecting a Stager.
Cost
Be sure to discuss the costs upfront. A good house stager will estimate the project's cost, including labor and materials. Remember that some home stagers may charge more than others, so it is important to compare prices before deciding which to hire. However, don't compromise on quality because of price.
Creativity and Ideas
Home stagers should provide new and creative ideas. House stagers with a good eye for design can create an inviting atmosphere that will attract buyers. Ask potential stagers for examples of their work and ask questions about their ideas.
The Best Staging Companies in Alexandria, VA
If you are looking for the best house staging companies in Alexandria, North Virginia, Montgomery County, and its environs, Realestaged is your go-to option. We offer the best home staging services, and we have an extensive portfolio of completed projects to back it up. Our professional home stagers are experienced and knowledgeable and provide fresh ideas and creative solutions for staging your home.
Realestaged offers the following services:
Staging consultation to discuss the scope of work.
Comprehensive staging plan with designs and concepts.
Staging of furniture, décor, and accessories.
Staging outdoor spaces such as patios, decks, balconies, and more.
Stylizing homes for photography and video tours.
Installation and removal of staging materials.
Organization and clutter control services, etc.
With Realestaged, you can rest assured knowing that your home is in the right hands! Our house stagers ensure that potential buyers see your home in the best light. We will work closely with you to ensure you get the desired results. Contact Realestaged today and experience a stress-free, professional house staging service!