What does the home interior design scene look like in 2022? That's a question on many people's minds, and for a good reason. Interior design trends tend to change every few years, so if you're planning on renovating your home anytime soon, it's important to stay ahead of the curve. In this blog post, we'll take a look at the most popular interior design trends (2022 edition). Keep reading to learn more!
Interior Design Trends 2022
Here are the top home decor ideas for 2022:
Art Deco
This year's big interior design trend is art deco. This luxurious and glamorous style was popular in the 1920s and 1930s, and it's making a comeback in a big way. If you want to add a touch of glamor to your home, consider incorporating some Art Deco elements into your design.
Think about adding a few statement pieces, like a mirrored coffee table or a velvet sofa. You can also use bold geometric patterns and luxurious materials to get the look.
Bold Colors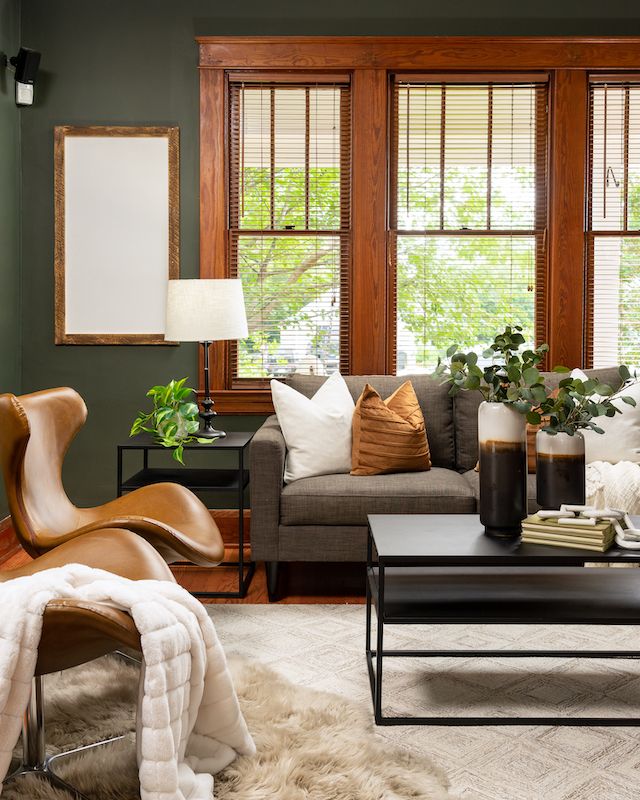 Bold colors and patterns are probably one of the biggest trends we will see this year. If you're looking to add a pop of color to your home, this is the year to do it!
We're seeing lots of bright pink, orange, and yellow patterns this year. You can use these colors and patterns in small doses like the chair above or large swathes, so don't be afraid to go big!
Textured Wall Art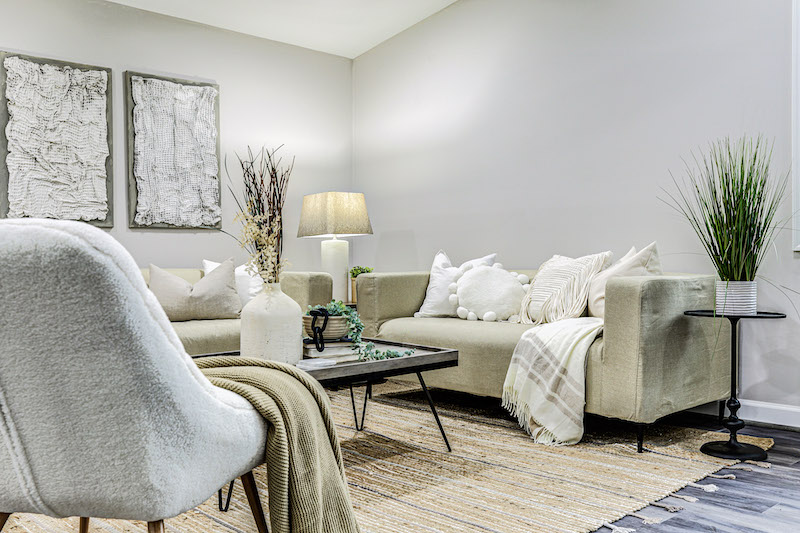 Textured walls are also gaining popularity in 2022. This trend can be achieved with wallpapers, decals, or even paint. If you want to add some depth and interest to your walls, this is the way to do it. Just make sure not to go overboard, as too much textures can make a space feel cluttered.
Functional Storage
Functional storage is a must in any home, but it's especially important this year. With almost everyone choosing to work from home these days, it's more crucial than ever to have a place for everything. Look for creative ways to add storage to your homes, such as under the stairs, entryway, or even kitchen.
Earth Tones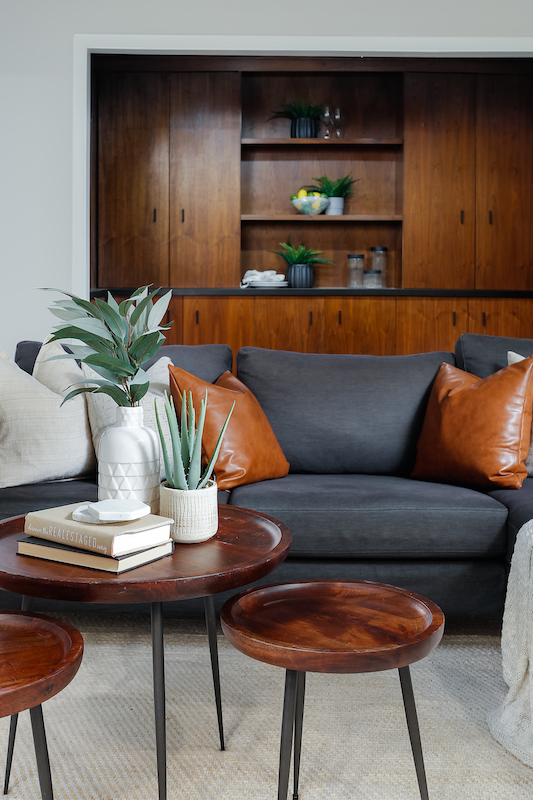 Earth tones are always popular in the world of interior design, and 2022 is no exception. If you're looking to create a calming and relaxing space, earth tones are the way to go.
So far, we have noticed more interior designers using soft greens, blues, and browns. These colors can be used on walls, floors, furniture, and more.
Decked-Out Entertainment Spaces
At the moment, entertaining places may be considered a lower priority. However, some homeowners are rediscovering their entertainment spaces in 2022—and fully decking them out. This may include adding a wet bar, game room, or home theater. If you have the space and the budget, this is a great way to make your home more enjoyable for everyone.
Curved Furniture Design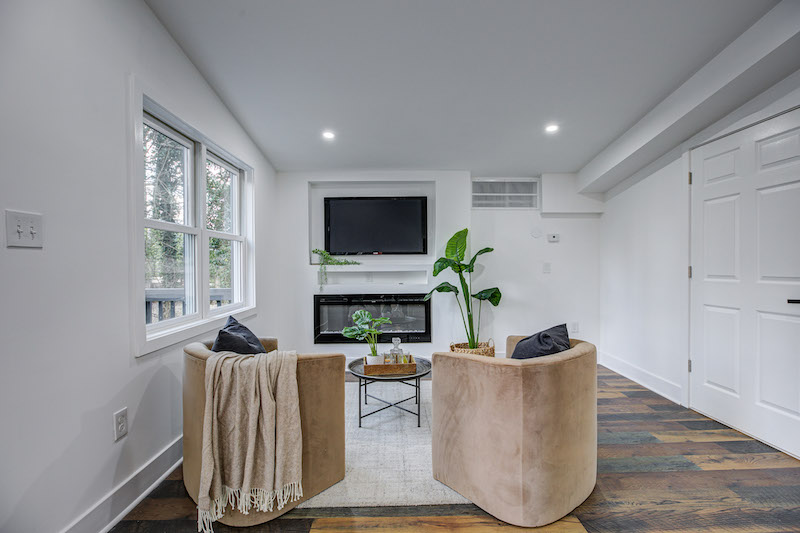 Curved furniture is a great way to add a soft, organic touch to your home. This trend is perfect for those who want to create a cozy and inviting space.
Look for rounded sofas, chairs, coffee tables, and more. Just make sure the rest of your furniture isn't too boxy, as this can make the space feel unbalanced.
Nature-Inspired Spaces
Nature-inspired designs are all the rage this year. This trend brings the outdoors in and creates a serene decor. Use natural materials like wood, stone, and plants to achieve this look. Incorporate organic shapes into your furniture and decor, and add greenery to create a peaceful oasis.
Sunlit Spaces (Natural Lighting)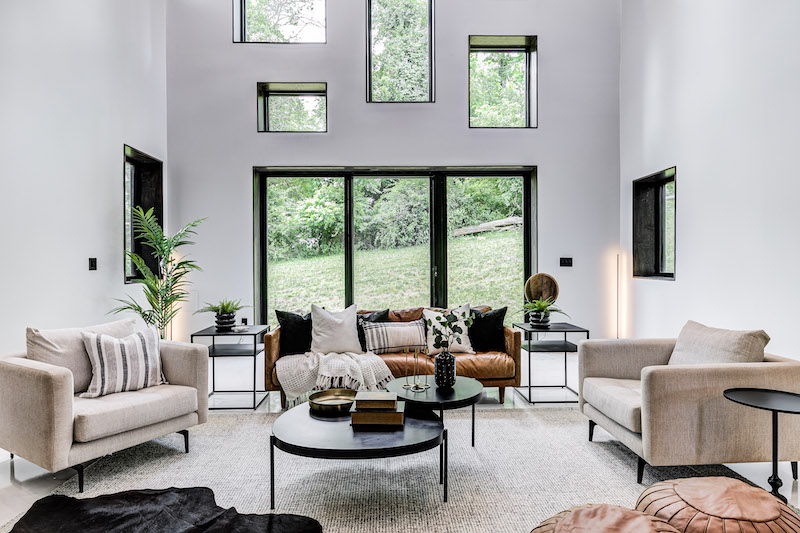 We're seeing a trend toward sunlit spaces this year. This means incorporating lots of windows and natural light into your home's design. If you have the opportunity to add more windows to your home, take advantage of it! You'll not only let in more light, but you'll also enjoy some amazing views.
Geometric Patterns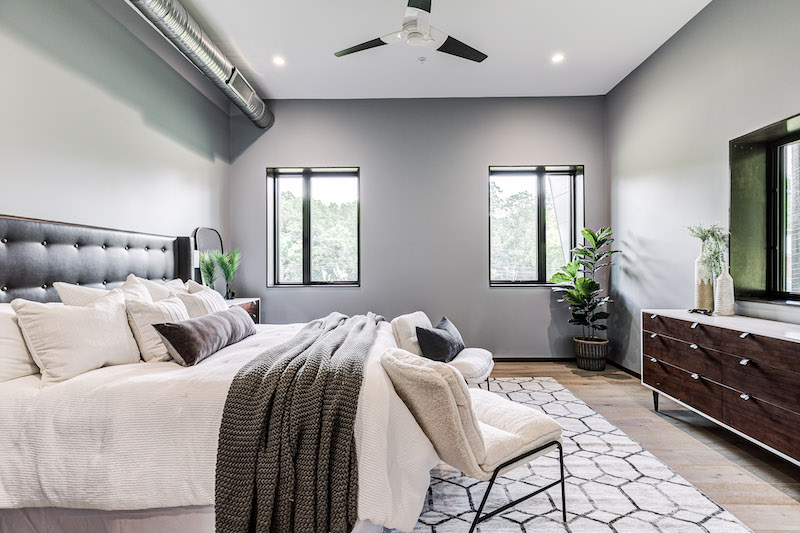 Geometric patterns are another big trend for 2022. This design style is all about bold, eye-catching shapes and patterns. Incorporate geometric elements into your furniture, decor, and even your architecture.
Think about adding a geometric rug or some hexagonal tiles to your space. You can also use geometric patterns to add a touch of personality to an otherwise neutral room.
Swivel Chairs
One of the biggest trends in furniture for 2022 is the swivel chair. This versatile piece can be used in any room, from the living room to the bedroom. Swivel chairs are perfect for small spaces because they can easily be moved around.
They're also great for entertaining since they allow you to move around and socialize easily. If you're looking for a piece of furniture that's both stylish and functional, a swivel chair is a way to go.
Boho Chic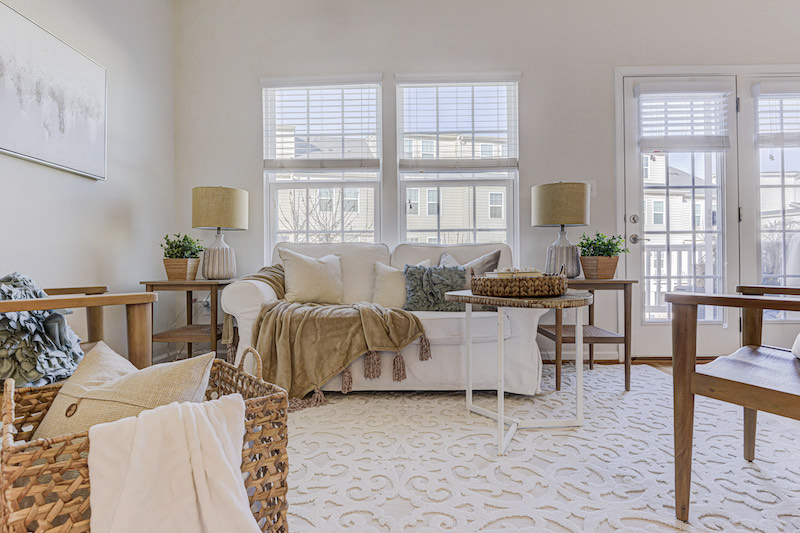 If you're looking for a trend with a bit more personality, consider Boho chic. This style is all about mixing and matching different elements to create a unique and eclectic look.
Incorporate vintage furniture, colorful textiles, and global-inspired decor. The possibilities are endless for Boho chic, so have fun with it and let your personality shine through.
Outdoor Spaces
A lot of people have spent more time at home than ever before these past few years. As a result, outdoor living spaces are becoming more popular than ever. If you have a backyard, consider making it into an oasis with some comfortable outdoor furniture, string lights, and potted plants.
You can also create a cozy outdoor seating area on your balcony or porch. Get creative and make the most of your outdoor space this year.
Traditional designs
While some opt for modern styles, others gravitate toward traditional design. This style is all about elegance and timeless appeal.
To create a traditional space, stick to a neutral color palette and use classic furniture pieces. Add antique accents or heirloom pieces to drive home the traditional feel.
Playful Pastels
If you're looking for a fun and stylish trend, consider playful pastels. This cheerful color palette is perfect for any space, from the living room to the dining room. You can use pastels to paint your walls or add some colorful accents with furniture and decor.
Mixed Metals
If you want to add a bit of luxury to your space, consider using mixed metals. This trend is all about mixing different metal finishes, such as brass and copper. You can use mixed metals in your furniture, lighting, and hardware.
Layered Rugs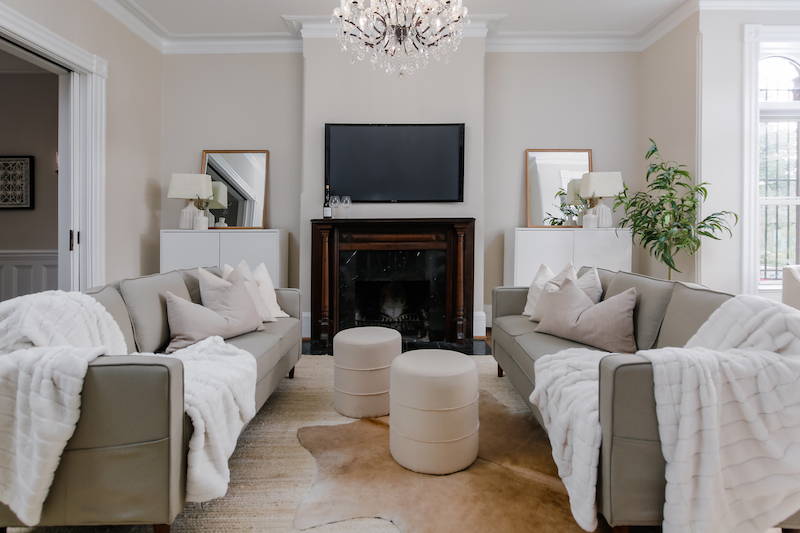 Layered rugs are a great way to add texture and interest to any space. This trend is perfect for living rooms and bedrooms since it can help create a cozy and inviting atmosphere. Start with a base rug and then layer on top of it with a second rug to get the look. You can also use different textures and patterns to really make the look your own.
Two-toned kitchens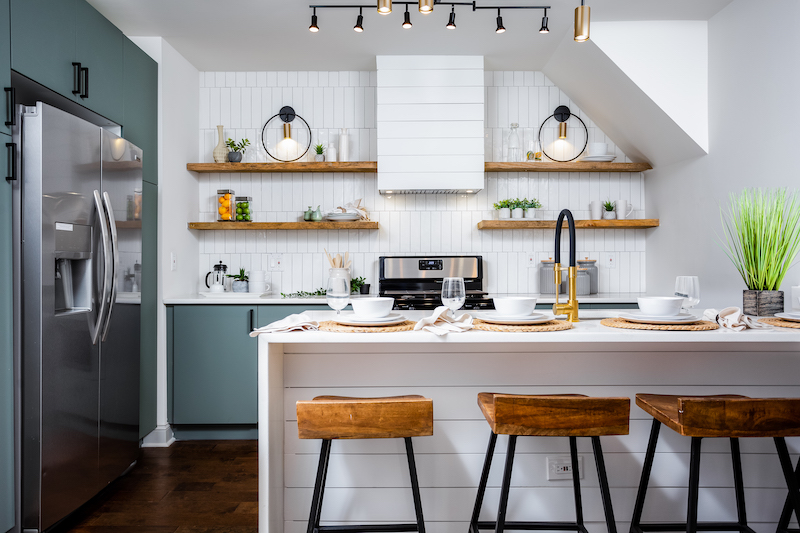 If you're looking for a kitchen trend that's both stylish and practical, consider two-toned cabinets. This trend is perfect for small kitchens because it can help create the illusion of more space.
To get the look, pair light upper cabinets with dark lower cabinets. You can also use two-toned cabinets to create a focal point in your kitchen. It's crucial to balance the colors so that the space doesn't feel too heavy or top-heavy.
Curved And Soft Lines
In 2022, we'll see a move away from sharp angles and straight lines in favor of soft, curved lines. This trend is perfect for creating a more inviting and relaxed atmosphere.
Sustainability
As we become more aware of the impact our choices have on the environment, sustainability will continue to be a big trend in interior design. When it comes to sustainable interior design, there are a few things to keep in mind.
Look for furniture made from recycled materials or that can be easily recycled. Choose natural fibers over synthetic ones. And opt for energy-efficient lighting and appliances. By making small changes, you can help make a big difference.
Monotone
If you want to create a calming and stylish space, consider using a monotone color palette. This trend is perfect for bedrooms, kitchens and bathrooms since it can help create a serene atmosphere. To get the look, stick to one main color and use different shades of that color throughout the space.
You can also add some texture with different materials, such as wood or stone. Just make sure not to go overboard, or you'll end up with a space that feels too sterile.
Leather Furniture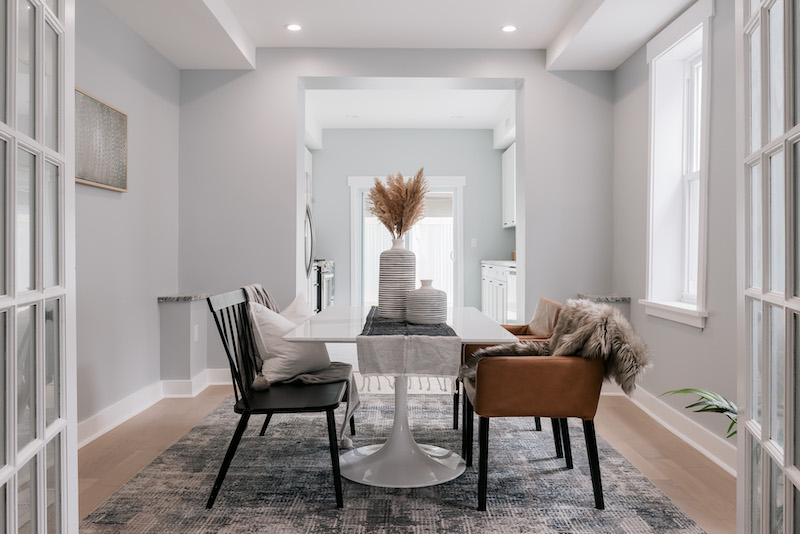 Leather is a material that can complement any interior and instantly improve it. It is unquestionably an appealing fabric for living areas and bedroom designs. Choose the color that works best for your space.
Leather can be displayed in a natural hue or made to stand out with an unusual hue. Feel free to use soft highlights or textured scatter pillows to contrast the material.
Venetian Plaster
Venetian plaster is a type of textured paint that can add depth and interest to any space. It's perfect for creating an accent wall or using as a backsplash in the kitchen. Venetian plaster is made from a mixture of lime, water, and sand.
It's then applied to the walls with a trowel and left to dry. Once it's dry, you can add a second layer for even more texture. This trend is perfect for anyone who wants to add some personal style to their space.
Need Help Stage Your Space?
If you're looking for help transforming your space, our team of stylists can help. We take pleasure in offering a more sensible and affordable staging option than what is currently on the market without compromising quality or beauty. Contact us today!